Press release at the water's edge in Palanga
With great sympathy we have been following a sister project that is collecting oral history and private photos from the Baltic in Cold War times. Next week a first workshop will be held in Palanga, Lithuania:
Do you remember the shores of the Baltic when the sea was divided by the Iron Curtain? On 16 to 19 September, artists, documentary filmmakers, administrators and museum representatives will meet in the legendary seaside resort Palanga for a workshop centred around this question. Representing all countries bordering the Baltic Sea, they participates in preparing a travelling exhibition at the water's edge– beach life on the shore as a cross-border experience during the Cold War. The Nordic Council of Ministers have granted initial support for the project...
News
During the last months we have purchased the rights for texts by Astrid Lindgren (in Swedish: Vi på Saltkråkan), Joseph Brodsky (in both English and all languages of the Baltic), Lübeck-born Josef Katz, One Who Came Back, The Diary of a Jewish Survivor / Erinnerungen eines Überlebenden, Henrik Bjelke (in Danish original and German translation by Peter Urban-Halle), Kurt Tucholsky (in Norwegian, translated by Per Qvale), Lithuanian writer Balys Sruoga (in German, translated by Markus Roduner), and we have even started editing some poems by Edith Södergran and Henry Parland.
Also a trailer for James Wine's film on Tomas Tranströmer's Östersjöar (Baltics) is now embedded on our site.
At the moment our project is in urgent need of funds to keep up the technical support and the server service for our web site and to make sure that the site continues to exist. That's why we kindly ask you and any potential sponsors you might know to support the virtual Baltic Sea Library with donations. Please transfer money to:
Forum Mare Balticum e.V.
IBAN: DE56120300001020126882
BIC: BYLADEM1001
You can also donate for a specific translation, like Tucholsky being translated into Russian, or Lorenz von Numers' Kring det baltiska into German.
Please also have a look at the info for our editor of Sámi literature, Johanna Domokos.
Twinsights on the Baltic Sea Library
Many of our viewers do not speak Swedish. That was the idea. To talk about the Swedish right of access to nature – allemansrätten – in a wider context. And a deeper context. That's why we turned to Tomas Tranströmer's Östersjöar: den kan vara allas / it can be everyone's. His poetry is translated into at least 60 lanuages around the world, the most of any living poet – ever!
Baltic Sea Library-Abend: Finnland und Schweden
Das Online-Projekt Baltic Sea Library (vertreten durch Klaus-Jürgen Liedtke, leitender Herausgeber, und Clas Zilliacus, Redakteur Schwedische Literatur) stellt mit Edith Södergran und Henry Parland zwei historische Autoren der finnlandschwedischen Avantgarde vor, die aktuell neu in die Baltic Sea Library aufgenommen wurden, und denen - in neuer Übersetzung ins Deutsche - jeweils ein Teilband der frisch erschienenen, fünfteiligen Ausgabe "Finnlandschwedische Literatur der Avantgarde" (Verlag Kleinheinrich, 2014) gewidmet ist.
Im zweiten, der Gegenwart verpflichteten Teil des Abends lesen Cia Rinne (mehrsprachig) und Anders Olsson (Schwedisch / Deutsch) eigene Gedichte.
30 Nov 2014 - 19:30
Geöffnet ab 19:30 Uhr, Beginn um 20:00 Uhr
News in June 2014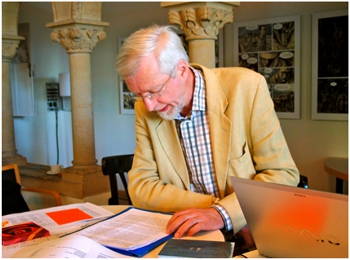 Presenting the Baltic Sea Library as "best practice" at the Annual General Meeting of the CEATL (Network of Associations of Literary Translators in Europe), Literarisches Colloquium Berlin on 7 June, 2014. Photo: Ildikó Lörinszky
_____
Here can you see two tiny pics from the chief editor's childhood!
New texts and essays
From now on the Baltic Sea Library will – with the help of Johanna Domokos as our editor - include some texts in Sámigiella, as the Sámi are a Baltic people as well, and hopefully in translation. A first yoik, Guldnasas njirozan, that was published in Schefferus' Lapponia in 1673, will be edited with all its different translations to Latin, English, German, Swedish collected by Andreas F. Kelletat in Trajekt 2/1982.
New texts
Tor Eystein Øverås, Til now available in German and Polish
Knuts Skujenieks, Dieva Odina deviņas naktis in Latvian + German, Swedish
The Voyage of Ohthere in Old English + Danish, Swedish and German
The Voyage of Wulfstan in Old English + Danish, Swedish and German
Adam von Bremen, Gesta Hammaburgensis ecclesiae pontificum in Danish
Knytlinga saga in Old Icelandic + German
Kalevala in English and German
Eglė žalčių karalienė in Swedish
Aino Kallas, Reigin pappi in Estonian
Johannes Bobrowski, The Village Tolmingkehmen in Lithuanian
New essays (in German and Swedish):
Ralph Dutli, Der Traum von Tallinn und Tartu
Barbara Lönnqvist, Porträtt av en tid - Anna Achmatovas dikt
Sergey Moreino, Text als Ort
Agneta Rahikainen, Karelenmytologin i finlandssvensk litteratur
Johannes Salminen, Östersjöns Alexandria
We have received a proposal from Literaturhaus Rostock for establishing a private network of artists' residencies in different Baltic Sea countries (starting with a place close to Rostock). This network could be handled by Forum Mare Balticum e.V.
Many of the translations of Bobrowski's poems into Polish, Lithuanian, Russian, Swedish, Norwegian (and additionally to Arabic, Chinese, French, Dutch) have recently been published in the volume "Atem, ich sende dich aus" by Saxa Verlag / Johannes-Bobrowski-Gesellschaft and can be ordered here.