Baltic Sea Library evening in Rendsburg 12th February 2016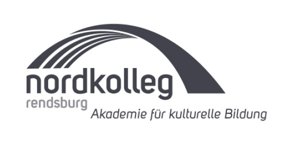 Eine literarische Kreuzfahrt mit den Redakteuren der Ostseebibliothek und ihren Gästen: Wolfgang Hörner, Berlin / Klaus-Jürgen Liedtke, Berlin / Polina Lisovskaja, St. Petersburg / Hans Peter Neureuter, Herrnfehlburg / Jan Philipp Reemtsma, Hamburg / Hanna Sjöberg, Berlin / Ingrid Velbaum Staub, Tallinn / Clas Zilliacus, Åbo.
Read more: Baltic Sea Library evening in Rendsburg 12th February 2016
12. FEBRUAR 2016 – 19 UHR - DIE OSTSEE LESEN
Eine literarische Kreuzfahrt mit den Redakteuren der Ostseebibliothek und ihren Gästen:
Sabine Herholz, Berlin/ Wolfgang Hörner, Berlin / Klaus-Jürgen Liedtke, Berlin / Polina Lisovskaja,
St. Petersburg / Hans Peter Neureuter, Herrnfehlburg / Jan Philipp Reemtsma, Hamburg /
Hanna Sjöberg, Berlin / Ingrid Velbaum Staub, Tallinn / Clas Zilliacus, Åbo
Die virtuelle Ostseebibliothek (Baltic Sea Library) existiert seit 2010 im Internet und bietet einen
ständig wachsenden Bestand an ausgewählten Essays und literarischen Texten aus allen
Ostseeliteraturen im Original und Übersetzungen: www.balticsealibrary.info.
Für jede der Literaturen ist ein ausgewiesener Redakteur zuständig. Allmählich entsteht so ein
literarisches Mosaik der gesamten Ostseeregion.
Die literarische Kreuzfahrt im Nordkolleg präsentiert einen ebenso vielstimmigen wie vielsprachigen
Ausschnitt der Texte und Sprachen, die in der Baltic Sea Library versammelt sind.
Im Herbst 2017 wird als Ableger auf Deutsch die Anthologie »Die Ostsee. Texte aus 2000 Jahren«,
herausgegeben von Klaus-Jürgen Liedtke, im Verlag Galiani Berlin erscheinen.
BEGINN 19.00 Uhr
EINTRITT 10,00 € | 7,00 € (ermäßigt)
Karten sind an Abendkasse im Nordkolleg erhältlich.
Reservierungen werden gerne telefonisch unter 04331-143810 entgegen
genommen.
Weitere Informationen zur Veranstaltung erhalten Sie direkt beim Nordkolleg Rendsburg bei
Britta Lange This email address is being protected from spambots. You need JavaScript enabled to view it. | Telefon: 04331-1438 11.
Mit freundlicher Unterstützung der Alfred Toepfer Stiftung F.V.S.
Baltic Sea Library-Evening: Sweden and Latvia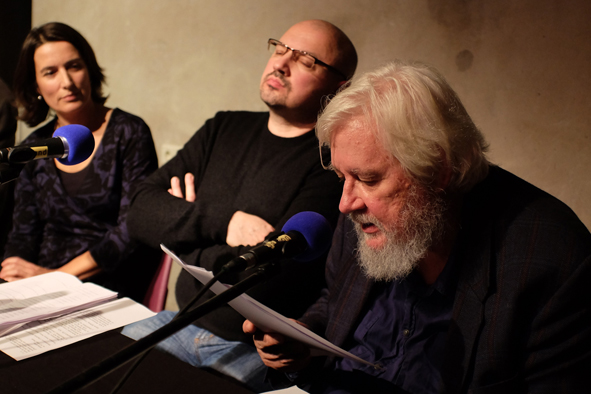 On 11 November 2015, during an evening at the "Ausland" club in Berlin-Prenzlauer Berg, The Baltic Sea Library has been presenting texts from the Baltic Sea Library in Swedish, German, Latvian and Russian. Klaus-Jürgen Liedtke, together with Charlotta Bjelfvenstam (both from Berlin) met Sergey Moreino and Juris Kronbergs (both from Riga).
Hanna Sjöberg presented her project "at the water's edge".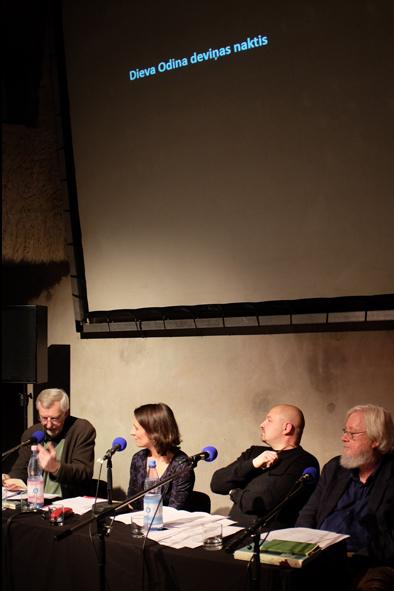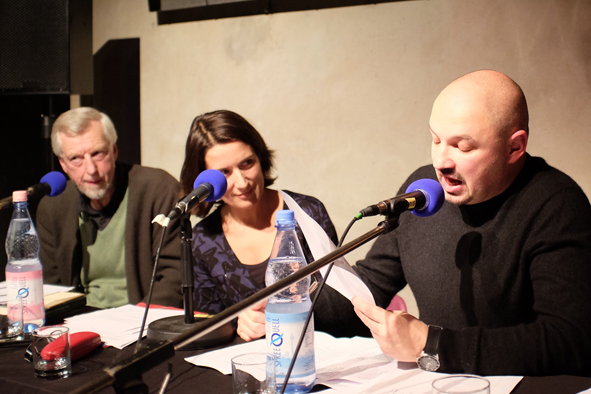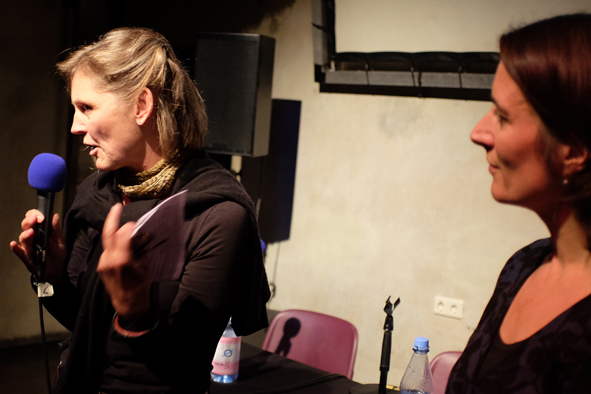 Photos: Unn Gustafsson.
Press release at the water's edge in Palanga
With great sympathy we have been following a sister project that is collecting oral history and private photos from the Baltic in Cold War times. Next week a first workshop will be held in Palanga, Lithuania:
Do you remember the shores of the Baltic when the sea was divided by the Iron Curtain? On 16 to 19 September, artists, documentary filmmakers, administrators and museum representatives will meet in the legendary seaside resort Palanga for a workshop centred around this question. Representing all countries bordering the Baltic Sea, they participates in preparing a travelling exhibition at the water's edge– beach life on the shore as a cross-border experience during the Cold War. The Nordic Council of Ministers have granted initial support for the project...
News
During the last months we have purchased the rights for texts by Astrid Lindgren (in Swedish: Vi på Saltkråkan), Joseph Brodsky (in both English and all languages of the Baltic), Lübeck-born Josef Katz, One Who Came Back, The Diary of a Jewish Survivor / Erinnerungen eines Überlebenden, Henrik Bjelke (in Danish original and German translation by Peter Urban-Halle), Kurt Tucholsky (in Norwegian, translated by Per Qvale), Lithuanian writer Balys Sruoga (in German, translated by Markus Roduner), and we have even started editing some poems by Edith Södergran and Henry Parland.
Also a trailer for James Wine's film on Tomas Tranströmer's Östersjöar (Baltics) is now embedded on our site.
At the moment our project is in urgent need of funds to keep up the technical support and the server service for our web site and to make sure that the site continues to exist. That's why we kindly ask you and any potential sponsors you might know to support the virtual Baltic Sea Library with donations. Please transfer money to:
Forum Mare Balticum e.V.
IBAN: DE56120300001020126882
BIC: BYLADEM1001
You can also donate for a specific translation, like Tucholsky being translated into Russian, or Lorenz von Numers' Kring det baltiska into German.
Please also have a look at the info for our editor of Sámi literature, Johanna Domokos.
Twinsights on the Baltic Sea Library
Many of our viewers do not speak Swedish. That was the idea. To talk about the Swedish right of access to nature – allemansrätten – in a wider context. And a deeper context. That's why we turned to Tomas Tranströmer's Östersjöar: den kan vara allas / it can be everyone's. His poetry is translated into at least 60 lanuages around the world, the most of any living poet – ever!