Looking for partners: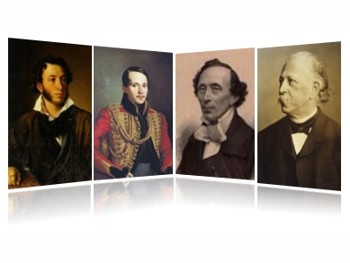 The virtual Baltic Sea Library, a non-commercial project supported by the German Federal Foreign Office, the CBSS and Bibliotheca Baltica is looking for partners, sponsors and other co-financing, at the prospect of a planned common application for means of the European Union's culture programme. The application is due this autumn and is supposed to request project sponsoring for the years 2013- 2015. Interested partners are welcome!
Save the Date for the presentation of the Baltic Sea Library at the Leipzig Book Fair: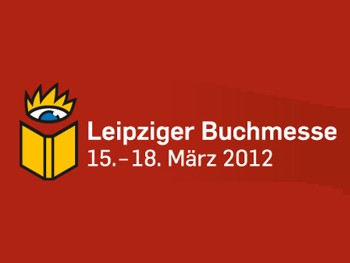 15th March, 2012
12:00 - 12:30 pm.
Presentation: Klaus-Jürgen Liedtke & Imre Török, chairman of the German Writers' Union
"Virtuell durch die Ostsee - Präsentation der Baltic Sea Library
Im dritten Jahr ihres Bestehens weitet sich die virtuelle Ostseebibliothek mehr und mehr zu einem literarischen Echoraum, einer Plattform, von der aus sich das gemeinsame kulturelle Erbe rund um die Ostsee erschließt.
Zwölf Herausgeber für finnische, schwedische, dänische, norwegische, isländische, russische, estnische, lettische, litauische, polnische und deutsche Literatur sowie Texte auf Latein haben sich länderübergreifend zusammengetan, um Wesen und Einflüssen der Literatur nachzuspüren.
Die Literatur zu sammeln, zu übersetzen und Leserinnen und Lesern online zur Verfügung zu stellen, geschieht dabei in dem Bewusstsein, dass es weder eine gemeinsame Literatur noch Sprache gibt. Und doch ist das umfangreiche Projekt ein vielsprachiges Statement, um das Verbindende der OstseeKultur vor Augen zu führen."
Veranstalter: Baltic Sea Library, Finnland-Institut in Deutschland
Ort: Nordisches Forum, Halle 4, Stand D302
Please have a look at the new site on facebook as well - which we hope you "like" or will share with friends who might.
BSL ON THE ROAD
At the beginning of December, Klaus-Jürgen Liedtke represented the BSL at the 1st PETRA-congress in Brussels (PETRA stands for European Platform For Literary Translation) which should come up with recommendations for the EU commission's new culture programme, recommendations common for both translators and publishers.
EU commissioner for culture and education Mr. Vladimir Šucha talked about language barriers as a challenge to develop our creativity as translators and about the need for thrilling tasks in order to outmanage the market mechanisms. Concrete self-administered projects can promote these skills to use our copyrights in new digital formats.
In a letter to the BSL after the congress Mr. Šucha invites us to prepare a multi-annual cooperation project and apply for EU funds on 1st October.
The new year had hardly begun when the BSL was presented at the "Bibliotheca Baltica Think Tank brainstorming meeting" at the National Library of Lithuania. Even the Lithuanian culture minister Mr. Arūnas Gelūnas participated and expressed his interest in a common effort.
The BBTT stands for a group of scholars, librarians and officials within the Bibliotheca Baltica association who meet with the purpose of supporting the economic, social and cultural development of the Baltic Sea region libraries. One important idea behind the Think Tank is to promote the awareness of "Digital Europe" and boost the information society building process in the Baltic Sea region. It is quite obvious how the BSL contribute to this process by maintaining a library that is entirely confined to the screen and yet brings together so many people and languages, opening up new ways for research and learning.
One question raised in Vilnius was if we should add Yiddish to our languages and it showed that the National Library of Finland holds collections by the Helsinki Synagogue including collections from former Vilnius Jewish congregation.
Looking back without anger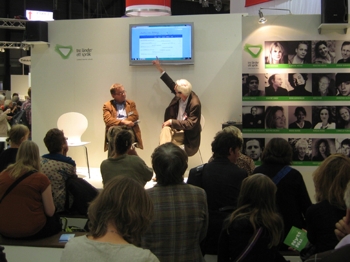 Since we held our Berlin conference in the beginning of April on "Cultural Diversity, language and Digital Content", there has been a meeting on 23rd August in Stockholm at the Council of Baltic Sea States Secretariat (wonderfully situated in the Old Town, facing all the cruise ships entering Stockholm) with Jan Lundin, General Secetary, and Senior Adviser Nanna Magnadóttir from CBSS as our hosts and Gunnar Sahlin, chairman of Bibliotheca Baltica, Lars Kleberg, prof em from Södertörn University, and me as participants. We discussed further possibilities of cooperation. Talks with the German Ambassador for the CBSS will follow at the German Foreign Office on 28th October.
The work goes on
Dear friends, our project's main sponsor, Nordic Culture Point, has accepted the interim report about our work and will soon transfer new financial means. Thus, it is high time to make plans about our future proceedings. The "shelfs" of the library need to be filled with more texts! That's why all editors are invited to propose three up to six new texts to be included in the Baltic Sea Library - the sooner the better. But the target line should be October 15. Your ideas are of prime importance not only for the completion of the library but also for planned translation workshops that we are going to organize together with Goethe-Institut in spring 2012 (which texts/which authors could be subject of translation?)
More news: the German translator Jürgen Rennert proposes to include in the Baltic Sea Library also Yiddish texts, namely those of the Jewish authors Ber Halpern (Vilnius) and Mark Rasumny (Riga). What is your opinion on that? A question here seems to be how Hebrew script can be digitized (PDF files?). The German translator Walter Neumann proposes poems by Janis Rainis claiming that his work is one of the greatest enrichments of the Latvian language, the Latvian "Goethe" so to say. But, is there "Balticness" to be found? The Norwegian author and translator Erling Kittelsen has proposed to include Latvian dainas. But also with dainas it might be complicated to relate them to the Baltic Sea. What do you think? Let's discuss these items! Your opinions are welcome.
Cooperation
Dear Friends,
after a meeting in Potsdam arranged by the German-Russian Forum, I can gladly tell you that we have received an offer to cooperate in all what we need from Russia by Ms Ekaterina Genieva, Director General from the State Libray of Foreign Literature in Moscow.
We should just put up a list about which of our texts that are needed in Russian and we will get the help in research and scanning. So do not hesitate!
I also would like to add some more information about the research done by Olga Kurilo who sent us a blog post recently:
*BÄDERKULTUR: Am weißen Strand von Selenogradsk*
Die Osteuropa-Historikerin Olga Kurilo stellt in der Urania ihr Buch
"Zoppot, Cranz, Rigascher Strand" vor
*POTSDAM / INNENSTADT* - Eben noch hatten die Besucher interessiert
vor den reich bebilderten Tafeln der Ausstellung über "Zoppot, Cranz,
Rigascher Strand" gestanden. Doch kaum hatte die in Moskau geborene
Osteuropa-Historikerin Olga Kurilo den Vortragsraum der Urania betreten,
war es mit der Beschaulichkeit auch schon vorbei. Die quirlige, an der
Viadrina Frankfurt (Oder) arbeitende Russin schien so übervoll von ihrem
Thema "Bäderkultur an der Ostsee als transnationales Phänomen", dass sie
gar nicht wusste, wovon sie zuerst erzählen sollte.
Am Anfang ihrer Forschungen stand die Beschäftigung mit Ausländern und
speziell deutschen Protestanten in Russland. Als sie später einen
Lehrauftrag an der Universität Greifswald erhielt, hat sie sich dort mit
dem Thema "Ostseebad" infiziert und auf einer Tagung über Ostseebäder
erste Kontakte hergestellt. So entstand in Zusammenarbeit mit dem
Deutschen Kulturforum Östliches Europa Potsdam und dem Herder-Institut
Marburg die Ausstellung, die eine im deutschsprachigen Kulturraum der
Ostsee bis weit in das Baltikum ähnliche Bäderkultur reflektiert. Für
Zoppot, Cranz und Rigaer Strand entschied sich Kurilo, weil sie jeweils
als ausgelagerte Badestrände der Großstädte Danzig, Königsberg und Riga
fungierten, die alle einen deutsch geprägten kulturellen Hintergrund
hatten, dann kommunistisch wurden und seit den Umbrüchen den Anschluss
an eine gemeinsame Kultur des Ostseeraums suchen.
Kurilos Vortrag begann mit der medizinisch motivierten Einrichtung von
Seebädern, die im ältesten deutschen Ostseebad Heiligendamm bereits 1793
begann. Es folgten Travemünde (1800), Kolberg (1802), Cranz (1816),
Zoppot (1821) und etwa zeitgleich auch das zu Russland gehörende Dubbeln
(1814) am Rigaschen Strand (heute Jürmala Lettland). Mit Dokumenten und
Fotos belegte Korilo die nahezu deckungsgleiche Entstehungsgeschichte,
die fast immer mit der Anbindung an den Eisenbahnverkehr einherging. Mit
den Bäderbahnen aber wurde aus dem elitären Vergnügen der Eliten
Massentourismus.
Nach 1945 wurde aus Cranz bei Königsberg Selenogradsk bei Kaliningrad
und Zoppot (Sopot) kam endgültig zu Polen. Auch der Rigasche Strand von
Jürmala hat mehrfach die Staatszugehörigkeit gewechselt, bevor nach 1990
aus der einstigen Sowjetrepublik das EU-Mitglied Lettland wurde.
Es scheint, dass dem politischen Umbruch eine Renaissance der
Bäderkultur folgen könnte. Es wäre wünschenswert, wenn die Träume der
Menschen in Orten wie Selenogradsk dabei nicht baden gehen müssten.
* Olga Kurilo: "Zoppot, Cranz, Rigascher Strand", Be-Bra-Verlag
2011, 157 Seiten, 19 Euro. Ausstellung in der Gutenbergstraße
71/72 bis Anfang September.
(Von Lothar Krone)
MÄRKISCHE ALLGEMEINE 9.6.2011
http://www.maerkischeallgemeine.de/cms/beitrag/12103309/60709/Die-Osteuropa-Historikerin-Olga-Kurilo-stellt-in-der.html