Egils saga Skallagrímssonar
XLVI. KAPITULI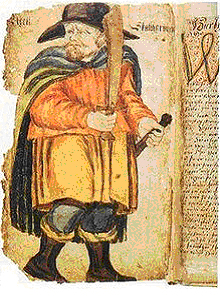 ÞEIR Þórólfr ok Egill váru með Þóri í góðu yfirlæti, en þeir bjuggu um várit langskip mikit ok fengu menn til ok fóru um sumarit í Austrveg ok herjuðu ok fengu of fjár ok áttu margar orrostur. Heldu þeir ok út til Kúrlands ok lǫgðu þar við land með hálfs mánaðar friði ok kaupstefnu; en er því var lokit, þá tóku þeir at herja ok lǫgðu at í ýmsum stǫðum. Einn dag lǫgðu þeir at við árós einn mikinn, enda var þar mǫrk mikil; þeir réðu þar til uppgǫngu, ok var skipt í sveitir, tólf mǫnnum saman. Þeir gengu á skóginn, ok var þar ekki langt, áðr byggðin tók við; þeir ræntu þar ok drápu menn, en liðit flýði undan, ok fengu þeir enga viðrtǫku. En er á leið daginn, lét Þórólfr blása liðinu til ofangǫngu; sneru menn þá aptr á skóginn, þar sem þá váru staddir, en svá fremi mátti kanna liðit, er þeir kómu til strandar; en er Þórólfr var ofan kominn, var Egill eigi kominn, en þá tók at myrkva af nótt, ok þóttusk þeir eigi mega leita hans. Egill hafði gengit yfir skóginn ok tólf menn með honum, ok sá þeir þá sléttur miklar ok byggðir; bœr einn stóð skammt frá þeim, ok stefndu þeir þar til, ok er þeir koma þar til, hlaupa þeir í húsin inn ok urðu við enga menn varir, en tóku fé þat, er laust var. Þar váru mǫrg hús, ok dvalðisk þeim þar lengi, en er þeir váru út komnir ok frá bœnum, þá var lið komit milli þeira ok skógarins, ok sótti þat at þeim; skíðgarðr var hár gǫrr millum þeira ok skógarins. Þá mælti Egill, at þeir skyldi fylgja honum, svá at eigi mætti ǫllum megin at þeim ganga; gekk Egill þá fyrst, en þá hverr at ǫðrum svá nær, at ekki mátti milli þeira komask; Kúrir sóttu at þeim fast, ok mest með lǫgum ok skotum, en gengu ekki í hǫggorrostu. Þeir Egill fundu eigi fyrr, er þeir ganga með gǫrðunum, en garðr gekk á aðra hǫnd þeim, ok mátti eigi fram komask; Kúrir sóttu eptir þeim í kvína, en sumir sóttu útan at ok lǫgðu spjótum ok sverðum í gegnum garðana, en sumir báru klæði á vápn þeira. Urðu þeir sárir ok því næst handteknir ok allir bundnir, leiddir svá heim til bœjarins. Maðr sá, er bœ þann átti, var ríkr ok auðigr; hann átti son roskinn; síðan var um rœtt, hvat við þá skyldi gera; sagði bóndi, at honum þótti þat ráð, at drepinn væri hverr á fœtr ǫðrum. Bóndason sagði, at þá gerði myrkt af nótt, ok mætti þá enga skemmtun af hafa at kvelja þá; bað hann láta bíða morgins; var þeim þá skotit í hús eitt ok bundnir rammliga; Egill var bundinn við staf einn, bæði hendr ok fœtr; síðan var húsit læst rammliga, en Kúrir gengu inn í stofu ok mǫtuðusk ok váru allkátir ok drukku. Egill fœrðisk við ok treysti stafinn, til þess er upp losnaði ór gólfinu; síðan fell stafrinn; smeygðisk Egill þá af stafnum; síðan leysti hann hendr sínar með tǫnnum, en er hendr hans váru lausar, leysti hann bǫnd af fótum sér; síðan leysti hann félaga sína. En er þeir váru allir lausir, leituðusk þeir um í húsin, hvar líkast var út at komask; húsit var gǫrt at veggjum af timbrstokkum stórum, en í annan enda hússins var skjaldþili flatt; hljópu þeir þar at ok brutu þilit. Var þar hús annat, er þeir kómu í; váru þar ok timbrveggir um; þá heyrðu þeir manna mál undir fœtr sér niðr; leituðusk þeir þá um ok fundu hurð í gólfinu. Luku þeir þar upp; var þar undir grǫf djúp; heyrðu þeir þangat manna mál. Síðan spurði Egill, hvat manna þar væri; sá nefndisk Áki, er við hann mælti. Egill spurði, ef hann vildi upp ór grǫfinni; Áki segir, at þeir vildu þat gjarna; síðan létu þeir Egill síga festi ofan í grǫfina, þá er þeir váru bundnir með, ok drógu þar upp þrjá menn. Áki sagði, at þat váru synir hans tveir ok þeir váru menn danskir, hǫfðu þar orðit herteknir it fyrra sumar. "Var ek," sagði hann, "vel haldinn í vetr; hafða ek mjǫk fjárvarðveizlur búanda, en sveinarnir váru þjáðir ok unðu því illa. Í vár réðu vér til ok hljópum á brott ok urðum síðan fundnir; váru vér þá hér settir í grǫf þessa." "Þér mun hér kunnigt um húsaskipan," segir Egill; "hvar er oss vænst á brott at komask?" Áki sagði, at þar var annat skjaldþili, — "brjóti þér þat upp; munu þér þá koma fram í kornhlǫðu, en þar má út ganga sem vill." Þeir Egill gerðu svá, brutu upp þilit, gengu síðan í hlǫðuna ok þaðan út; niðamyrkr var á; þá mæltu þeir fǫrunautar, at þeir skyldi skunda á skóginn. Egill mælti við Áka: "Ef þér eru hér kunnig hýbýli, þá muntu vísa oss til féfanga nǫkkurra." Áki segir, at eigi myndi þar skorta lausafé; "hér er lopt mikit, er bóndi sefr í; þar skortir eigi vápn inni." Egill bað þá þangat fara til loptsins, en er þeir kómu upp í riðit, þá sá þeir, at loptit var opit; var þar ljós inni ok þjónustumenn ok bjuggu rekkjur manna. Egill bað þá suma úti vera ok gæta, at engi kœmisk út; Egill hljóp inn í loptit, greip þar vápn, því at þau skorti þar eigi inni; drápu þar menn alla, þá er þar váru inni; þeir tóku sér allir alvæpni. Áki gekk til, þar er hlemmr var í gólfþilinu, ok lauk upp, mælti, at þeir skyldi þar ofan ganga í undirskemmuna. Þeir tóku sér ljós ok gengu þangat; váru þar féhirzlur bónda ok gripir góðir ok silfr mikit; tóku menn sér þar byrðar ok báru út; Egill tók undir hǫnd sér mjǫðdrekku eina vel mikla ok bar undir hendi sér; fóru þeir þá til skógar. En er þeir kómu í skóginn, þá nam Egill stað ok mælti: "Þessi ferð er allill ok eigi hermannlig; vér hǫfum stolit fé bónda, svá at hann veit eigi til; skal oss aldregi þá skǫmm henda; fǫrum nú aptr til bœjarins ok látum þá vita, hvat títt er." Allir mæltu því í mót; sǫgðu, at þeir vildu fara til skips. Egill setr niðr mjǫðdrekkuna; síðan hefr hann á rás ok rann til bœjarins; en er hann kom heim til bœjarins, þá sá hann, at þjónustusveinar gengu frá eldaskála með skutildiska ok báru inn í stofuna. Egill sá, at í eldahúsinu var eldr mikill ok katlar yfir; gekk hann þangat til; þar hǫfðu verit stokkar stórir fluttir heim, ok svá eldar gǫrvir, sem þar er siðvenja til, at eldinn skal leggja í stokks endann, ok brennr svá stokkrinn. Egill greip upp stokkinn ok bar heim til stofunnar ok skaut þeim endanum, er logaði, upp undir upsina ok svá upp í næfrina; eldrinn las skjótt tróðviðinn. En þeir, er við drykkjuna sátu, fundu eigi fyrr en loginn stóð inn um ræfrit; hljópu menn þá til duranna, en þar var ekki greiðfœrt út, bæði fyrir viðunum, svá þat, at Egill varði dyrnar. Felldi hann menn bæði í durunum ok úti fyrir durunum; en þat var svipstund ein, áðr stofan brann, svá at hon fell ofan. Týndisk þar lið allt, er þar var inni, en Egill gekk aptr til skógarins, fann þar fǫrunauta sína; fara þá allir saman til skips. Sagði Egill, at mjǫðdrekku þá vill hann hafa at afnámsfé, er hann fór með, en hon var reyndar full af silfri. Þeir Þórólfr urðu allfegnir, er Egill kom ofan; heldu þeir þegar frá landi, er mornaði. Áki ok þeir feðgar váru í sveit Egils; þeir sigldu um sumarit, er á leið, til Danmarkar ok lágu þar enn fyrir kaupskipum ok ræntu þar, er þeir kómusk við.
XLVII. KAPÍTULI
HARALDR Gormsson hafði þá tekit við ríki í Danmǫrk, en Gormr, faðir hans, var þá dauðr;landit var þá herskátt; lágu víkingar mjǫk úti fyrir Danmǫrku. Áka var kunnigt í Danmǫrku bæði á sjó ok landi; spurði Egill hann mjǫk eptir, hvar þeir staðir væri, er stór féfǫng myndi fyrir liggja. En er þeir kómu í Eyrarsund, þá sagði Áki, at þar var á land upp kaupstaðr mikill, er hét í Lundi, sagði, at þar var féván, en líkligt, at þar myndi vera viðtaka, er bœjarmenn væri. Þat mál var upp borit fyrir liðsmenn, hvárt þar skyldi ráða til uppgǫngu eða eigi; menn tóku þar allmisjafnt á, fýstu sumir, en sumir lǫttu; var því máli skotit til stýrimanna. Þórólfr fýsti heldr uppgǫngu; þá var rœtt við Egil, hvat honum þótti ráð. Hann kvað vísu:
12. Upp skulum órum sverðum,
ulfs tannlituðr, glitra,
eigum dáð at drýgja
í dalmiskunn fiska;
leiti upp til Lundar
lýða hverr sem bráðast,
gerum þar fyr setr sólar
seið ófagran vigra.
Síðan bjuggusk menn til uppgǫngu ok fóru til kaup-staðarins. En er bœjarmenn urðu varir við ófrið, þá stefndu þeir í mót; var þar tréborg um staðinn, settu þeir þar menn til at verja; tóksk þar bardagi. Egill gengr fyrstr inn um borgina; síðan flýðu bœjarmenn; varð þar mannfall mikit. Ræntu þeir kaupstaðinn, en brenndu, áðr þeir skilðusk við; fóru síðan ofan til skipa sinna..
Chapter 46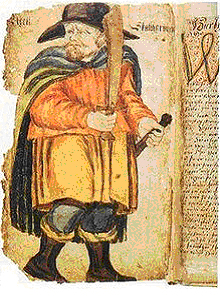 In the spring, Thorolf and Egil equipped a big longship and took on a crew to go raiding in the Baltic that summer. They won a huge amount of booty and fought many battles there, and the same summer they also went to Courland where they lay offshore for a while. They offered the people there a fortnight's truce and traded with them, and when the truce was over they began plundering again. The Courlanders had gathered forces on land, but Thorolf and Egil raided various places that seemed most attractive.
One day they put in to an estuary with a large forest on the upland above it. They went ashore there and split up into parties of twelve men. They walked through the woodland and it was not far until the settlement began, fairly sparse at first. The vikings began plundering and killing people at once, and everyone fled from them. The settlements were separated by woods. Meeting no resistance, the raiders split up into smaller bands. Towards the end of the day, Thorolf had the horn sounded to call the men back, and they returned to the woods from wherever they were, since the only way to make sure they were all there was to go to the ships. When they took the count, Egil and his party had not returned. By then night was falling and they did not think there was any point in looking for him.
Egil had crossed a wood with his band of twelve men and found great plains which were settled in many places. A large farm stood near to them, not far from the wood, and they headed for it. When they reached it they ran inside, but found nobody there. They seized all the valuables they could take with them, but there were so many buildings to search that it took them a fairly long time. When they came out again and headed away from the farm, a large band of men had gathered between them and the forest, and was advancing upon them.
A high stockade extended from the farm to the wood. Egil said they should skirt it to prevent them being attacked from all sides, and his men did so. Egil led the way, with all of them so close together that no one could get between them. The Courlanders shot arrows at them but did not engage in hand-to-hand fighting. As they skirted the stockade, Egil and his men did not realise at first that there was another stockade on the other side of them, narrowing to a bend where they could not proceed any farther. The Courlanders pursued them into this pen. Some attacked them from the outside by lunging their swords and spears through the fences, while others rendered them harmless by throwing blankets over their weapons. They suffered wounds and were captured, and were all tied up and led back to the farm.
The farm was owned by a powerful and wealthy man who had a grown-up son. They talked about what to do with the prisoners. The farmer advocated killing them one after the other, but his son said that since night was falling, they would not be able to enjoy torturing them, and asked him to wait until morning. The prisoners were thrown into one of the buildings, tightly bound. Egil was bound hand and foot against a post. Then the house was locked up firmly and the Courlanders went into the main room to eat, make merry and drink. Egil wriggled and pressed against the post until it came free of the floor. Then the post fell over. He slipped himself off it, loosened his hands with his teeth, and when his hands were free he untied his feet. Then he released his companions.
When they were all free, they looked around the building for the most suitable place to escape. The walls of the house were made of large logs, with flat timber panelling at one end. They rammed it, broke down the panelling and found themselves in another building, with timber walls as well.
Then they could hear voices coming from below. They searched around and found a trap-door in the floor, and opened it. Underneath it was a deep pit where they could hear voices. Egil asked who was there, and a man called Aki spoke to him. Egil asked him if he wanted to come out of the pit, and he said they all certainly did. Egil and his men lowered the ropes they had been tied up with down into the pit, and hauled three men up.
Aki told them that these were his two sons, and that they were Danes and had been captured the previous summer.
"I was well looked after during the winter," he said. "I was put in charge of tending the cattle for the farmers here, but the boys disliked being made to work as slaves. In the spring we decided to run away, but then we were caught and put in this pit."
"You must be familiar with the layout of the buildings," Egil said. "Where's the best place to get out?"
Aki told them there was another panelled wall: "Break it down and you will be in the barn where you can leave as you please."
Egil and his men broke down the panelling, entered the barn and went out from there. It was pitch dark. Their companions told them to rush for the woods.
Egil said to Aki, "If you are familiar with the houses around here, you must be able to show us where we can take some booty."
Aki said there were plenty of valuables they could take, "and a large loft where the farmer sleeps. There's no lack of weapons inside."
Egil told them to go to the loft. When they went up the stairs they saw that the loft was open and there were lights inside, and servants were making the beds. Egil told some of his men to stay outside and make sure that no one escaped. He ran into the loft and snatched up some weapons there, for there was no lack of them, and they killed everyone who was inside. His men armed themselves fully. Aki went over to a hatch in the floorboards and opened it, saying that they should go down into the room below. They took a light and went down. The farmer's treasure-chests were kept there, with valuable articles and much silver in it, and they took all they could carry and left. Egil picked up a large chest and carried it under his arm, and they headed for the woods.
In the woods, Egil stopped and said, "This is a poor and cowardly raid. We have stolen all the farmer's wealth without him knowing. We shall never suffer such shame. Let us go back to the farm and let people know what has happened."
Everyone tried to dissuade him, saying that they wanted to go to the ship. But Egil put down the chest, and dashed off towards the farm. When he reached it he could see servants leaving the fire-room, carrying trenchers into the main room. Egil saw a great fire in the building with cauldrons on top of it. He went over to it. Large logs had been brought inside and the fire was made in the customary manner, by lighting the end of one so that it would burn all the way down. Egil grabbed the log, carried it over to the main room and thrust the burning end under the eaves and up into the rafters. The fire quickly kindled the tinder. The first thing the people knew who were sitting drinking was that the rafters were ablaze. They ran for the door but there was no easy escape there, because of both the woodpile and Egil guarding the door. He killed them in the doorway and outside. It was just moments before the main room flared up and collapsed. Everyone inside perished, while Egil went back to the woods and rejoined his companions. They all went to the ship together. Egil claimed as his private booty the treasure-chest he had taken, which turned out to be full of silver.
Thorolf and the others were relieved when Egil came back to the ship, and they left when morning broke. Aki and his sons were in Egil's party. They sailed to Denmark later that summer and sat in ambush for merchant ships, robbing wherever they could.
Egillin, Kalju-Grímrinpojan saaga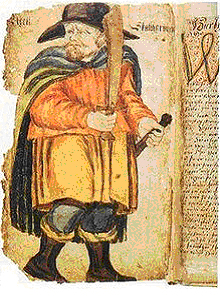 XLVI luku
Thórólfria ja Egilliä pidettiin hyvin Thóririn luona, mutta keväällä he varustivat suuren sotaveneen, hankkivat miehistön ja purjehtivat kesällä Idäntielle, riehuivat siellä, saivat hyvän saaliin ja kävivät monta taistelua. He tulivat Kuurinmaalle saakka, menivät maihin, sopivat asukkaiden kanssa kuukauden rauhasta ja kävivät kauppaa. Kun rauha oli ohi, he rupesivat taas riehumaan ja menivät maihin yhdessä jos toisessakin paikassa.
Eräänä päivänä he rantautuivat suurelle jokisuulle lähellä korkeaa metsää. He varustautuivat menemään maihin ja jakoivat väen kahdentoista miehen ryhmiin. He tulivat ensin metsään, josta ei ollut pitkä asutulle seudulle, hyökkäsivät kylään ja tappoivat kansaa, mutta useimmat pääsivät pakoon eikä kukaan ruvennut vastarintaan. Kun päivä rupesi päättymään, Thórólfr antoi puhaltaa torvella merkin, jolla miehet kutsuttiin laivalle. Jokainen palasi metsään siitä paikasta, jossa oli torven soidessa, ja vasta sen jälkeen kun oli tultu kokoon, voitiin laskea miesten määrä. Kun Thórólfr tuli, Egill ei vielä ollut palannut. Alkoi tulla pimeä ja arveltiin, ettei häntä kannattanut lähteä etsimään.
Egill oli mennyt metsän läpi kaksitoista miestä mukanaan. Metsän toisella puolella he näkivät tasankoja ja kyliä. Heidän lähellään oli kartano. Sinne vei polku, ja perille tultuaan he hyökkäsivät kartanoon. He eivät tavanneet ainoatakaan ihmistä ja ottivat mukaansa kaiken irtaimen. Kartanolla oli monta taloa ja heillä meni siellä pitkään. Kun he tulivat ulos ja olivat ehtineet kartanolta jonkin matkaa, väkeä oli kokoontunut heidän ja metsän väliin ja kävi hyökkäykseen. Heidän ja metsän välissä oli korkea aitaus.
Egill käski silloin miehiä seuraamaan häntä niin, ettei heidän kimppuunsa päästäisi kaikilta suunnilta. Egill kulki ensimmäisenä ja toiset hänen perässään niin tiiviissä joukossa, ettei kukaan päässyt heidän väliinsä. Kuurinmaalaiset hyökkäsivät kiivaasti, mutta käyttivät enimmäkseen keihäitä ja nuolia eivätkä tulleet lähitaisteluun. Egill ja hänen miehensä huomasivat sitten aidan viertä kulkiessaan, että heillä oli aita toisellakin puolellaan, eivätkä he päässeet ulos. Kuurinmaalaiset tunkivat heitä aitaukseen ja jotkut pistelivät heitä aidan läpi miekoilla ja keihäillä, toiset taas heittivät vaatteita heidän aseilleen. Miehiä haavoittui, heidät otettiin vangeiksi ja vietiin sidottuina kartanoon. Kartanon omistaja oli mahtava ja rikas mies ja hänellä oli täysikasvuinen poika.
Sitten kuurinmaalaiset neuvottelivat, mitä heidän pitäisi vangeilleen tehdä. Kartanon omistaja sanoi, että hänen mielestään viisainta olisi tappaa kaikki yksi toisensa jälkeen. Poika oli sitä mieltä, että koska oli jo tulossa pimeää, he eivät voisi huvitella kiduttamalla heitä ja siksi olisi odotettava aamua. Sen jälkeen heidät vietiin vahvasti sidottuina yhteen taloista. Egill sidottiin käsistään ja jaloistaan pylvääseen, talo teljettiin, ja kuurinmaalaiset menivät tupaan, söivät ja joivat ja tulivat riehakkaiksi. Egill ravisteli ja taivutti pylvästä kunnes se irtosi lattiasta ja kaatui. Sitten hän irrotti itsensä siitä ja siteet käsistään hampaillaan. Kun hän oli saanut kätensä vapaaksi, hän irrotti siteet jaloistaan ja vapautti toverinsa. Kun kaikki olivat vapaita, he rupesivat katselemaan mistä pääsisivät ulos. Talon seinät olivat paksuista hirsistä, mutta yksi seinä oli ohut lautaseinä. He ryntäsivät sitä vasten ja mursivat seiniin. He tulivat toiseen taloon, jossa myös oli paksut hirsiseinät. Siellä he kuulivat ihmisääniä jalkojensa alta, katselivat ympärilleen ja löysivät lattiasta luukun. Sen avattuaan he näkivät lattian alla syviin kuopan. Egill kysyi, keitä siellä oli. Kuopasta vastasi mies, joka sanoi nimekseen Áki. Egill kysyi halusiko hän kuopasta ylös. Áki vastasi, että mielihyvin. Egill ja hänen miehensä laskivat nyt alas köysiä, joilla heidät oli sidottu ja vetivät ylös kolme miestä. Áki kertoi, että kaksi muuta olivat hänen poikiaan ja että he olivat tanskalaisia miehiä, jotka olivat joutuneet vangeiksi edellisenä kesänä.
"Talvella minua pidettiin hyvin, olin kartanon hoitajana, mutta pojistani tehtiin orjia ja heillä oli vaikeaa. Keväällä yritimme paeta mutta meidät saatiin kiinni. Sen jälkeen meidät pantiin kuoppaan."
"Te tiedätte varmasti miten talot täällä kartanolla ovat", sanoi Egill. "Mistä meillä olisi parhaat toiveet päästä ulos?" Áki kertoi nyt, että oli vielä yksi lautaseinä, "murtakaa se, niin tulette vilja-aittaan, sieltä pääsee ulos."
Egill teki niin kuin Áki oli neuvonut. He mursivat lautaseinän, tulivat aittaan ja sieltä ulos. Ulkona oli säkkipimeä yö. Egillin miehet sanoivat, että heidän pitäisi nyt kiirehtiä, että pääsisivät metsään. Silloin Egill sanoi Ákille:
"Jos sinä tiedät, kuinka talot täällä ovat, niin varmasti voit myös näyttää, mistä saamme saalista." Áki vastasi, ettei irtaimesta ollut puutetta. "Täällä on suuri parvi, jossa omistaja nukkuu ja siellä on paljon aseita."
Egill sanoi, että he menisivät parvelle. Kun he tulivat pylvässaliin, he näkivät, että parvi oli auki. Siellä oli valoja; palvelusväki oli laittamassa vuoteita kuntoon. Egill käski muutaman miehen jäädä ulkopuolelle katsomaan, ettei kukaan tulisi ulos. Hän itse ryntää sisään ja aseille, joita siellä oli paljon. Sitten he tappoivat kaikki sisällä olijat ja ottivat itselleen jokainen täyden aseistuksen. Áki meni nyt lattiassa olleelle luukulle ja avasi sen; sieltä he pääsivät alapuolella olevaan kamariin, hän sanoi. He ottivat mukaansa valoa ja menivät alas. Siellä olivat omistajan rahakätköt, arvoesineet ja paljon hopeaa. Miehet ottivat jokainen minkä jaksoivat kantaa ja veivät ulos. Egill pisti kainaloonsa suuren simahaarikan ja otti sen mukaansa; sitten he pakenivat metsään. Mutta kun he tulivat metsään, Egill pysähtyi ja sanoi: "Tämä oli onneton retki ja arvoton viikinkihyökkäys. Olemme varastaneet talonpojan omaisuutta hänen tietämättään. Sellaista häpeää emme ota; nyt me menemme kartanoon takaisin ja he saavat tietää, mitä kuuluu."
Kaikki muut olivat vastaan ja sanoivat haluavansa takaisin laivalle. Egill panee pois simahaarikan ja lähtee juosten takaisin kartanoon. Kun hän tuli sinne, tulituvasta tuli kaksi palkollista kantaen vatia tupaan. Tulituvassa paloi suuri tuli, jonka yläpuolella oli kattiloita. Egill meni tulitupaan. Siellä oli suuria tukkeja ja tulet oli tehty niin kuin siellä oli tapana; tukin pää pannaan tuleen ja sen annetaan palaa. Egill otti tukin, kantoi sen tuvan luo ja työnsi palavan pään räystään läpi kattotuoliin. Tuli levisi nopeasti kattopuissa, ja ne jotka istuivat juomassa pöydän luona eivät huomanneet mitään ennen kuin koko katto oli liekeissä. He yrittivät ovelle, mutta siitä ei ollut helppo tulla ulos, sillä tukki oli tiellä ja sen lisäksi Egill seisoi vahdissa. Joitakin hän kaatoi jo ovelle, toisia sen ulkopuolella. Hetken päästä koko talo oli tulessa ja romahti. Kaikki, jotka olivat tuvassa, menehtyivät, mutta Egill palasi metsään ja löysi sieltä seuralaisensa. He lähtivät kaikki laivalle. Simahaarikan, jonka Egill oli ottanut mukaansa, hän halusi omaksi osuudekseen saaliista, hän sanoi; se oli nimittäin täynnä hopeaa. Thórólfr ja muut ilahtuivat Egillin paluusta kovin, ja heti kun päivä valkeni, he lähtivät merelle. Áki ja hänen poikansa seurasivat Egillin mukana. Kesän kuluessa he purjehtivat Tanskaan, väijyivät siellä kauppalaivoja ja ryöstivät niitä, joihin pääsivät käsiksi.
XLVII luku
Siihen aikaan oli Haraldr Gorminpoika ottanut vallan isänsä jälkeen, joka oli kuollut. Maata vainosivat kovin viikingit, jotka väijyivät merellä. Áki tunsi Tanskan hyvin, maan niin kuin merenkin, ja Egill kyseli häneltä tarkoin paikoista, joissa olisi runsasta saalista ryöstettäväksi. Kun he tulivat Eyrarsalmeen, Áki sanoi, että ylempänä rannalla oli suuri kauppakaupunki, jonka nimi oli Lundr. Siellä oli mahdollisuuksia saaliiseen, hän sanoi, mutta luultavasti he saisivat vastaansa kauppakaupungin miehet. Kysyttiin miehistöltä, halusivatko he nousta maihin vai eivät, ja mielipiteet jakaantuivat; toiset olivat puolesta, toiset vastaan. Päätös annettiin lopulta päälliköille. Thórólfr oli maihinnousun kannalla. Sitten kysyttiin Egilliltä, mitä mieltä hän oli. Hän teki runon:
Terävästi täytyy miekkain
kesällä suhista;
me, jotka usein
sudenhampaan puunaamme
käykäämme toimeen.
Ylös Lundriin
kiiruhtakoon jokainen,
laulakoot miekat laulunsa
ennen kuin aurinko laskee.

Miehet varustautuivat sitten nousemaan maihin ja lähtivät Lundriin. Kun kauppapaikan miehet huomasivat, että hyökkäys oli tulossa, he kokoontuivat vastarintaan. kaupungin ympärillä oli puulinnoitus. Sille asettuivat miehet puolustukseen ja siellä taistelu alkoi. Egill tunkeutui ensimmäisenä puulinnaan. Silloin kauppakaupungin miehet lähtivät pakoon ja mieshukka oli suuri. Viikingit ryöstivät kaupungin ja polttivat sen ennen kuin lähtivät. Sitten he palasivat laivalleen.
Ein Wikingerüberfall in Kurland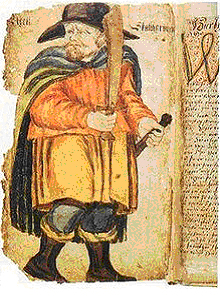 Thorolf und Egil standen bei Thorir in hohem Ansehen, aber im Frühjahr machten sie ein großes Langschiff fahrtfertig, heuerten eine Mannschaft an und fuhren im Sommer ins Ostseegebiet, wo sie heerten und Beute machten und viele Kämpfe ausfochten. Sie fuhren dann weiter nach Kurland, legten dort an und hielten für einen halben Monat Waffenruhe, um Handel zu treiben. Aber als das erledigt war, fingen sie wieder an zu heeren und gingen an verschiedenen Stellen an Land. Eines Tages landeten sie bei einer großen Flußmündung, wo auch ein großer Wald war. Sie beschlossen, hier weiter landeinwärts zu gehen, und teilten sich in Gruppen auf, immer zwölf Mann zusammen. Sie gingen in den Wald, und es war nicht weit, bis Siedlungen anfingen. Dort raubten sie und erschlugen Männer, doch die Leute flohen vor ihnen, und sie stießen auf keinen Widerstand. Als aber der Tag zu Ende ging, ließ Thorolf für seine Mannschaft zur Rückkehr blasen. Da kehrten die Männer von wo sie gerade waren wieder in den Wald zurück, aber man konnte die Gruppen erst abzählen, nachdem sie an den Strand gekommen waren. Als nun Thorolf hinunter kam, war Egil noch nicht da, aber weil die Nacht anbrach und es dunkel wurde, sahen sie keine Möglichkeit mehr, nach ihm zu suchen.
Egil war durch den Wald gegangen und zwölf Mann mit ihm, und sie sahen weite, ebene Flächen und Gebäude. Nahe vor ihnen stand ein Gehöft, und sie hielten darauf zu. Als sie es erreicht hatten, liefen sie hinein, gewahrten aber keinen Menschen. Da nahmen sie alles Wertvolle mit, was nicht niet- und nagelfest war. Das Gehöft bestand aus vielen einzelnen Gebäuden, und sie hielten sich dort lange Zeit auf. Aber als sie das Gehöft verließen, hatte ihnen eine Schar von Männern den Weg zum Wald abgeschnitten und ging auf sie los. Zwischen ihnen und dem Wald befand sich aber ein hoher Bretterzaun. Da sagte Egil zu seinen Leuten, sie sollten ihm folgen, damit man sie nicht von allen Seiten angreifen könnte. Er ging nun voran und jeder so dicht hinter dem anderen, dass man sich nicht zwischen sie drängen konnte. Die Kurländer griffen sie heftig an, meist mit Speerstößen und Pfeilschüssen, vermieden aber einen Schwert­kampf. Erst als Egil und seine Leute am Zaun ent­langgingen, bemerkten sie, dass auch auf der anderen Seite von ihnen ein Zaun verlief und dass man da nicht weiterkommen konnte. Die Kurländer setzten ihnen in der Sackgasse zu, ei­nige griffen von außen an und stießen mit Speeren und Schwer­tern durch den Zaun, andere warfen Kleidungsstücke auf ihre Waffen. Sie wurden verwundet und bald darauf alle gefangengenommen und gefesselt, dann zurück zum Hof geführt. Der Mann, dem dieses Gehöft gehörte, war reich und mächtig. Er hatte einen er­wachsenen Sohn. Danach wurde darüber beraten, was man mit ihnen tun sollte. Der Bauer sagte, er halte es für das beste, einen nach dem andern zu töten. Der Sohn des Bauern wandte ein, es werde schon dunkel zur Nacht und da hätte man ja keinen Spaß daran, sie zu quälen. Er schlug vor, damit bis zum Morgen zu warten. Dann warf man sie in eines der Häuser und fesselte sie mit aller Kraft. Egil wurde mit Händen und Füßen an einen Holzpfosten gebunden. Dann wurde das Haus ganz fest verschlos­sen. Die Kurländer aber gingen in die Halle und aßen und waren höchst vergnügt und tranken. Egil rüttelte mit aller Kraft und stemmte sich gegen den Pfosten, bis er sich im Fußboden lockerte. Da fiel der Pfosten um. Darauf machte sich Egil von ihm los und entfesselte seine Hände mit den Zähnen, aber als er seine Hände frei hatte, löste er die Fesseln von seinen Füßen. Dann band er seine Gefährten los. Und als sie alle losgebunden waren, sahen sie sich überall im Hause um, wo es am ehesten möglich wäre hinaus zu gelangen. Die Wände des Hauses waren aus großen Holzbalken errichtet, aber an einem Ende des Hauses war eine dünne Trennwand. Gegen die warfen sie sich und konnten sie durchbrechen. Dahinter war aber ein anderes Haus, in das sie kamen, und dort waren nun ringsum Balkenwände. Da hörten sie unter ihren Füßen Männerstimmen. Sie gingen ihnen nach und entdeckten eine Falltür im Boden. Sie öffneten sie: darunter war eine tiefe Grube, und von dort kamen die Männerstimmen. Darauf fragte Egil, was da für Männer wären. Der zu ihnen sprach, sagte, er heiße Aki. Egil fragte, ob er aus der Grube heraus möchte. Aki antwortete, das wollten sie sehr gerne. Darauf ließen Egil und seine Leute die Stricke, mit denen man sie gefesselt hatte, in die Grube hinab und zogen an ihnen drei Männer herauf. Aki sagte, dies seien seine zwei Söhne, und sie seien Dänen und wä­ren im Sommer davor gefangen genommen worden. "Ich wurde", sagte er, "im Winter gut behandelt. Ich hatte die Verwaltung über den Besitz des Bauern, aber die jungen Burschen machte man zu Sklaven, und sie waren übel dran. Im Frühjahr entschlossen wir uns davonzulaufen, wurden bald entdeckt. Darauf wurden wir hier in diese Grube geworfen." – "Du bist sicher mit der Anlage der Häuser vertraut", sagte Egil, "wo können wir hier wohl am besten herauskommen?" Aki antwortete, da gebe es eine andere Trennwand aus Brettern – "Wenn ihr die aufbrecht, werdet ihr in eine Kornscheune gelangen, und von dort könnt ihr hinausgehen, wie ihr wollt." Egil und seine Leute machten es so. Sie brachen die Wand auf, gingen dann in die Scheune und von dort ins Freie.
Es war mondlos und stockfinster. Da sagten Egils Gefährten, man sollte sich jetzt beeilen, in den Wald zu kommen. Egil sagte zu Aki: "Wenn du dich hier mit den Häusern auskennst, sollst du uns zeigen, wo wir etwas erbeuten können." Aki sagte, da mangle es nicht an beweglicher Habe. "Hier gibt es einen großen Raum im Obergeschoss, in dem der Bauer schläft. Da könnt ihr jede Menge Waffen finden." Egil hieß sie in das Stockwerk zu gehen, und als sie die Treppe heraufkamen, sahen sie, dass der Raum offen war. Es war Licht drinnen, und Dienstleute bereiteten den Männern ihre Betten. Egil wies einige an, draußen zu bleiben und darauf Acht zu geben, dass niemand herauskäme. Egil aber lief in das Zimmer und griff sich dort Waffen, denn an denen fehlte es dort drinnen nicht. Da erschlugen sie alle Männer, die darin waren. Danach nahm sich jeder soviel, wie zu einer vollständigen Bewaffnung gehörte. Aki ging zu einer Stelle, wo sich eine Luke im Bretterboden befand, und öffnete sie. Er schlug vor, in die Kammer hinunter zu steigen. Sie nahmen Licht mit und gingen hinunter. Da waren die Schätze und Kostbarkeiten des Bauern und viel Silber. Die Männer beluden sich damit und trugen es ins Freie. Egil nahm sich eine ziemlich große Truhe mit Kostbarkeiten und trug sie unter dem Arm, dann gingen sie in den Wald.
Aber als sie in den Wald kamen, hielt Egil an und sagte: "Dieses Unternehmen ist ganz schlecht und unehrenhaft. Wir haben nämlich dem Bauern seinen Besitz geraubt, ohne daß er etwas davon weiß. Eine solche Schande wollen wir auf keinen Fall auf uns sitzen lassen. Wir gehen jetzt zurück zum Hof und lassen sie wissen, was geschehen ist." Alle sprachen dagegen und sagten, sie wollten lieber zum Schiff gehen. Egil setzte die Truhe mit den Kostbarkeiten ab. Dann fing er an zu rennen und lief zum Hof. Als er aber dort ankam, sah er, wie die Diener mit Schüsseln und Platten aus dem Küchenhaus kamen und sie in das Wohnhaus trugen. Egil sah auch, dass im Küchenhaus ein großes Feuer war, mit Kesseln darüber, und ging dorthin. Man hatte da große Holzstämme herbeigeschafft und das Feuer so angelegt, wie es dort Sitte ist, indem man einen Stamm an seinem Ende anzündet und ihn dann weiter brennen lässt.
Egil er­griff den Stamm, trug ihn zum Wohnhaus und stieß das brennende Ende in den Dachstuhl hinauf und dann in die hölzernen Dachschindeln. Das Feuer griff im Dachstuhl rasch um sich. Im Hof lag dürres Holz, und das trug Egil vor die Tür. Aber die beim Trinken saßen, merkten nichts, bis das Dach innen in Flammen stand. Da liefen die Männer zur Tür, aber da konnten sie nicht so einfach herauskommen, wegen des Holzes und auch weil Egil die Tür bewachte. Er erschlug Männer so­wohl in der Tür als auch draußen vor ihr, und es dauerte nur einen Augenblick, da brannte die Wohnhalle und fiel schließlich zusammen.
Da kamen alle um, die dort drinnen waren, aber Egil ging zurück zum Wald und traf dort seine Fahrtgenossen. Dann begaben sich alle zusammen zum Schiff. Egil sagte, die Schatztruhe, die er mitgenommen hatte, wolle er als Häuptlingsgut behalten. Sie war nämlich voller Silber. Thorolf und seine Leute freuten sich sehr, als Egil zum Strand herunterkam. Als es Morgen wurde, legten sie sogleich vom Lande ab. Aki und seine Söhne schlossen sich Egil an. Als der Sommer zu Ende ging, segelten sie nach Däne­mark und lauerten dort wieder Handelsschiffen auf und raubten, wo sich eine Gelegenheit dazu fand.
Überfall in Lund
Harald Gormsson hatte inzwischen die Herrschaft über Dänemark angetreten, und sein Vater Gorm war bereits tot. Das Land wurde damals von Überfällen heimgesucht. Oft lauerten Wikinger vor Dänemarks Küsten. Aki kannte sich in Dänemark gut aus, und zwar zu Wasser und zu Lande. Egil fragte ihn oft aus, wo die Orte wären, an denen es viel zu holen gab. Aber als sie in den Öresund kamen, sagte Aki, ein Stück landaufwärts gäbe es einen großen Handelsort, der "im Lund" heiße. Dort könnte man mit Beute rechnen, es sei aber wahrscheinlich, dass die Bewohner des Ortes Widerstand leisten würde. Die Angelegenheit wurde den Gefolgsleuten vorgelegt, ob man dort einen Überfall machen sollte oder nicht. Die Männer waren ganz unterschiedlicher Meinung: die einen drängten darauf, andere dagegen rieten ab. Deshalb wurde die Entscheidung den Schiffsführern überlassen. Thorolf war eher dafür. Da fragte man Egil, was ihm ratsam schiene. Der sprach den Vers:
Hocherhoben sollen unsere Schwerter,
Zahnröter des Wolfs[1], blitzen,
eine Heldentat gilt's zu vollbringen
im Erbarmen der Tal-Fische[2].
Jeder von uns soll möglichst schnell
nach Lund hinauf eilen,
ehe die Sonne sinkt werden wir dort
ein unschönes Speerlied singen[3].
Dann machten sich die Männer zum Überfall bereit und zogen zum Handelsort. Als die Bewohner aber den drohenden Angriff bemerkten, organisierten sie den Widerstand. Es gab da eine Holzpalisade um die Stadt, dort postierten sie Männer zur Verteidigung. Dann begann die Schlacht. Egil betrat die Stadt als erster. Da wandten sich die Bewohner zur Flucht. Es gab da viele Tote. Sie plünderten die Handelsstadt und zündeten sie an, bevor sie abzogen. Dann begaben sie sich zu ihren Schiffen.
Torolfs un Egils pavasarī izrīkoja lielu laivu, sarunāja kara draudzi un vasarā devās sirot Baltijas jūrā. Viņi postīja, laupīja un izcīnīja daudz kauju. Tad viņi devās uz Kurzemi un izcēlās krastā, uz pusgadu noslēdzot pamieru un tirdzniecības līgumu. Kad līguma laiks beidzās, viņi sāka postīt un uzbrukt.
Kādu dienu vikingi iebrauca kādā upes grīvā, kuras krastos auga biezs mežs. Sadalījušies kopos pa divpadsmit, viņi devās mežā, drīz nonākot kāda ciemata tuvumā. Vikingi laupīja un nokāva vīriešus, bet kad visi pārējie aizbēga, vairs nebija, kas pretotos.
Uz vakara pusi Torolfs lika taurēt atgriešanas signālu, un visi vikingi no meža devās atpakaļ uz krastu. Tikai pludmalē varēja pārbaudīt, vai visi atgriezušies. Torolfs bija atgriezies jūrmalā, bet Egila nebija. Tumsai uznākot, tika nolemts, ka viņu tagad nevar meklēt.
Egils ar divpadsmit vīriem bija gājuši pa mežu un iznākuši klajumā ar ēkām. Viņu priekšā bija lauku mājas, un vikingi devās turp. Pienākuši klāt, viņi skriešus devās mājās iekšā, bet neviena tur nesastapa. Vikingi sāka laupīt mantas. Tur bija daudz ēku, un viņi kavējās ilgi. Kad viņi beidzot atstāja lauku mājas, starp mežu un viņiem bija sapulcējušies daudz laužu, kas vikingiem uzbruka.
Vikingus no meža šķīra zedeņu žogs. Egils tad izrīkoja, lai vikingi viņam seko, un vadīja vīrus tā, lai tiem nevarētu uzbrukt no visam pusēm. Egils gāja pa priekšu, un pārējie sekoja cieši aiz viņa. Kurši viņus apmētāja šķēpiem un apšaudīja bultām, bet neielaidās zobenu cīņa. Egils un viņa vīri, virzoties gar žogu, drīz nonāca pie kāda cita žoga, kas nogrieza tiem ceļu. Vikingus, kas šādi bija nonākuši strupceļā, kurši pamatīgi apstrādāja. Kurši uzbruka ar šķēpiem un zobeniem, kamēr daži svieda drēbes uz vikingu ieročiem. Tā vikingus ievainoja, sagūstīja un, kad visi bija saistīti, tos noveda atpakaļ lauku mājās.
Lauku māju saimnieks bija varens un bagāts, un viņam bija pieaudzis dēls. Kurši apspriedās, ko darīt ar vikingiem. Saimnieks izteicās, ka vislabākais būtu visus nogalināt. Saimnieka dēls turpretim aizrādīja, ka tumsas dēļ nebūs nekāda prieka, gūstekņus spīdzinot, tādēļ būtu jānogaida rīts. Gūstekņus tad iesprostoja namā un stingri sasēja.
Egilu piesaistīja rokām un kājām pie kāda zemē iedzīta mieta, un namu tad cieši nosprostoja. Kurši pēc tam devās uz svētku zāli, ēda un dzēra, un bija līksmi. Egils mēģināja kustēties un valstījās pret mietu, kamēr tas kļuva vaļīgs. Beidzot miets apkrita, un Egils no tā atbrīvojās, ar zobiem atraisot saites ap rokām. Kad rokas bija atbrīvotas, viņš varēja atbrīvot kājas. Pēc tam viņš atbrīvoja savus biedrus.
Kad visi bija brīvi, viņa sāka pētīt namu, lai noskaidrotu, kā no tā varētu izkļūt. Nams bija cirsts no resniem baļķiem, bet viena siena bija plānāka. Vikingi izlauza šo sienu un nonāca otrā namā. Arī šim namam bija biezas baļķu sienas. Te viņi izdzirdēja vīriešu balsis zem savām kājām. Vērīgi lūkojoties visapkārt, viņi pamanīja durvis grīdā. Viņi atvēra durvis. Apakšā bija dziļa bedre, un no turienes atskanēja vīriešu balsis. Egils jautāja, kas tur par ļaudīm. Viņam atbildēja kāds, kas saucās Akis. Egils jautāja, vai viņi vēlas izkļūt no bedres, Akis teica, ka viņi to gaužām vēloties. Egils un viņa biedri tad nolaida lejā virves, ar kurām viņi bija bijuši saistīti, un vikingi izvilka trīs vīrus. Akis teica, ka tie divi esot viņa dēli. Viņi esot dāņi un sagūstīti iepriekšējās vasaras sirojumā. Akis stāstīja: "Ziemā ar mani apgājās labi. Biju saimnieka pārvaldnieks, bet manus dēlus padarīja par vergiem, un viņi ļoti cieta. Pavasarī mēs nolēmām bēgt, bet mūs noķēra un iemeta šai bedrē."
Egils tad teica: "Ja tā, tad droši vien labi pazīsti apkārtni un vari ieteikt, kā no šejienes var izkļūt."
Akis norādīja uz kādu plānu šķērssienu un teica: "Ielauziet šo sienu, tad jūs nonāksit klētī, bet no turienes varat iet, kurp vien gribat".
Egils un viņa ļaudis tā izdarīja. Viņi ielauza dēļu sienu nomāca klētī un no turienes ārā. Bija melna nakts un Egila draudze gribēja steigties uz mežu. Tad Egils uzrunāja Aki: "Tā kā tu pazīsti šejieni, tad parādi, kur vislabāk varētu laupīt." Akis parādīja, kur daudz mantas: "Šai lielajā augštelpā, kur saimnieks guļ, ir arī daudz ieroču."
Egils tad deva rīkojumu uzkāpt augšējā stāva, un kad viņi bija uzkāpuši pa kāpnēm, viņi redzēja, ka durvis bija vaļā. Iekšā dega uguns, un kalpotāji klāja kuršu gultas. Egils lika dažiem vikingiem palikt ārā un uzmanīt, lai neviens neizbēgtu, bet pats ar citiem vikingiem viņš iebruka telpā. Viņi paķēra ieročus, kuru te netrūka, un nogalināja visus kuršus, kas bija telpā. Ieroču pietika visiem vikingiem. Akis tad devās uz kādām durvīm grīdā, atslēdza tās un aicināja vikingus nokāpt lejā. Viņi paņēma gaismu un nokāpa. Tur bija saimnieka manta, skaistas rotas un daudz sudraba. Vikingi uznesa smagas mantu nastas. Egils paņēma lielu zarukannu un uznesa to augšā. Tad visi devās uz mežu.
Kad viņi nonāca mežā, Egils apstājās un teica: "Mēs tagad neesam rīkojušies, kā vikingiem klājas. Esam apzaguši saimnieku, un viņš par to nekā nezina. Neaptraipīsim savu godu. Dosimies atpakaļ un paziņosim, ko esam izdarījuši." Visi bija pret šo priekšlikumu un teica, ka viņi gribot doties uz laivu.
Egils tad nolika zemē zarukannu un viens pats devās skriešus uz tikko atstātajām lauku mājām. Te viņš redzēja, ka kalpotāji no virtuves nesa ēdienus uz istabā klātajiem galdiem. Virtuvē kurējās pavards, un virs uguns karājās liels katls. Uguns pavardā pēc toreizējām paražām bija kurta, sakraujot garus baļķēnus, kas dega no viena gala, kamēr viss baļķēns sadega. Egils paķēra vienu baļķēnu, devās uz svētku zāli un iegrūda degošo galu zem kores jumta skaidās. Uguns ātri izplatījās spārēs, bet dzīrotāji to pamanīja tikai tad, kad viss jumts bija liesmās. Kurši tagad skrēja uz durvīm, bet nebija viegli izkļūt ārā pa daļai baļķu dēj, pa daļai tāpēc, ka Egils sargāja durvis. Egils nogalināja lielāko tiesu kuršu gan durvīs, gan durvju priekšā. Pēc īsa laika dega visa zāle, un kad iebruka jumts, visi, kas tur bija, dabūja galu.
Egils pēc tam devās uz mežu un sastapa tur pārējos vikingus. Visi devās uz laivu. Egils teica, ka viņš vēloties līdzpaņemto zarukannu kā goda piemiņu. Kanna bija pilna līdz malām ar sudrabu. Torolfa ļaudis ļoti priecājas par Egila ierašanos. Rīta agrumā visi brauca tālāk. Akis un viņa dēli bija tagad Egila draudzē. Vasaras beigās viņi devās uz Dāniju, vajāja tirgotāju laivas un laupīja, kad vien radās izdevība.
Egilio saga
XLVI. Torolvo ir Egilio žygis į kuršių žemę
Torolvas ir Egilis gyveno pas Torirą didžiai gerbiami ir godojami. Pavasarį jie paruošė didelį ilglaivį, surinko žmonių ir vasarą išplaukė kariauti į Rytų žemes. Jie laimėjo ne vieną mūšį ir įsigijo didelių turtų.
Atplaukė jie ir kuršių žemėn, sustojo prie kranto ir pusę mėnesio taikiai prekiavo. Paskui jie pradėjo žygius į įvairias vietas, kur žudė ir plėšikavo.
Kartą jie išsilaipino didelės upės žiotyse. Ten buvo didelė giria. Jie išlipo į krantą ir, pasiskirstę būriais po dvylika, nužygiavo į girią. Netrukus jie užėjo kaimą. Čia jie pradėjo plėšti ir žudyti žmones, kurie bėgo nuo jų nesipriešindami. Į dienos pabaigą Torolvas įsakė pūsti ragą, kad visi trauktųsi atgal. Visi pasuko iš girios atgal prie laivo. Tik pakrantėje buvo galima suskaičiuoti vyrus, bet kai Torolvas išėjo į krantą, Egilio tenai nebuvo. Pradėjo temti, ir jie nusprendė, kad ieškoti jo neįmanoma.
Egilis su dvylika vyrų perėjo per girią ir pamatė plačius laukus, o juose trobesius. Netoliese buvo sodyba, ir jie patraukė link jos. Atėję jie įsilaužė į vidų ir pradėjo vogti grobti, nesutikę nė vieno žmogaus. Ten buvo daug trobesių, ir jie ilgokai užtruko. Išėję iš sodybos, jie pamatė didelį būrį žmonių, kurie pastojo kelią į girią ir puolė prie jų.
Nuo sodybos girios link ėjo aukšta tvora. Egilis įsakė savo bendražygiams eiti paskui jį pagal tvorą, kad priešas negalėtų užpulti iš visų pusių. Egilis ėjo pirmas, o iš paskos - kiti vyrai, taip glaudžiai vienas prie kito, kad pro juos niekas negalėtų prasmukti. Kuršiai juos įnirtingai puolė, daugiausia laidydami ietis ir strėles, bet laikėsi atokiau, kad Egilio vyrai nepasiektų kalavijais.
Slinkdami patvoriu, nei Egilis, nei jo vyrai iš pradžių nematė, kad kita tvora įžambiai kerta jiems kelią. Kuršiai prirėmė juos prie tvoros, kai kurie pro plyšius badė juos ietimis ir kardais, o kiti jiems užmetė ant ginklų drabužius. Egilio vyrai buvo sužeisti, paskui paimti į nelaisvę, surišti ir nuvesti į sodybą.
Sodybos šeimininkas buvo galingas ir turtingas žmogus. Jis turėjo suaugusį sūnų. Jie ėmė tartis, ką daryti su Egiliu ir kitais. Šeimininkas pasakė, kad reikia išžudyti visus vieną po kito. Bet sūnus atkirto, esą jau naktis, o tamsoje nebūsią jokio malonumo kankinti belaisvius. Jis pasiūlė palaukti ryto. Tada juos suvarė į vieną trobesį ir kietai surišo. Egilį pririšo prie stulpo už rankų ir už kojų. Paskui užrėmė duris ir nuėjo namo, o ten valgė, gėrė ir linksminosi.
Egilis užgulė stulpą ir traukė tol, kol išlupo iš aslos. Stulpas išgriuvo, ir Egilis numetė jį į šalį. Paskui dantimis atrišo rankas, o kai rankos buvo laisvos, nusiėmė pančius ir nuo kojų. Paskui išlaisvino ir savo draugus.
Kai visi buvo laisvi, ėmė žvalgytis, ar nepamatys kokios landos. Sienos buvo suręstos iš storų rąstų, o vienas galas atitvertas lentine pertvara. Įsibėgėję jie užgulė pertvarą, sulaužė ją ir atsidūrė kitoje patalpoje. Čia taip pat buvo rąstų sienos. Staiga apačioje, po kojomis, jie išgirdo žmonių balsus.
Jie viską apžiūrėjo, grindyse aptiko dangtį ir atkėlė jį. Apačioje buvo gili duobė. Kaip tik iš ten ir sklido žmonių balsai. Egilis paklausė, kas jie tokie. Tas, kuris atsiliepė, pasivadino Akiu. Egilis paklausė, ar jis nenorėtų iš tos duobės išsikepurnėti. Akis atsakė, kad jie visi to ir tenori. Tada Egilis su draugais nuleido į duobę virvę, kuria buvo surišti, ir ištraukė į viršų tris vyrus. Akis pasakė, kad tai esą du jo sūnūs, kad jie danai ir pakliuvę nelaisvėn praeitą vasarą.
- Žiemą su manimi elgėsi gerai, - pasakė jis, - ir aš prižiūrėjau čionykščio bondo ūkį. Na, o vaikinus pavertė vergais, ir jiems buvo nelengva. Pavasarį mes pabėgome, bet mus greitai sugavo ir pasodino štai į šitą duobę.
- Tu turbūt, gerai pažįsti šiuos namus, - sako Egilis, - Kaip mums išeiti iš čia?
Akis pasakė, kad čia esanti dar viena pertvara.
- Išlaužkite ją, tada pateksiteį į svirną, o iš ten lengva išeiti.
Egilis su draugais taip ir padarė. Jie išlaužė pertvarą ir atsidūrė svirne, o iš ten ištrūko į lauką. Buvo naktis be mėnulio. Egilio draugai ragino kuo greičiau skubėti j girią. Egilis tarė Akiui: -Jei gerai žinai šiuos namus, parodyk, kur čia esama turto.
Akis pasakė, kad turto esama į valias.
- Stai didelė palėpė, kur miega čionykštis bondas. Ten pilna ginklų.
Egilis liepė nuvesti juos į palėpę, o kai jie užlipo į viršų, pamatė, kad palėpė atidaryta. Viduje degė šviesa, o tarnai klojo patalus. Egilis paliko kelis vyrus lauke sergėti, kad niekas neišeitų, o pats įsiveržė į vidų ir griebėsi ginklų, kurių ten buvo apstu, ir užmušė visus, kurie ten buvo. Jie visi gerai apsiginklavo.
Akis nuvedė juos prie dangčio grindyse, atidengė jį ir pasiūlė nusileisti į sandėlį rūsyje. Jie pasiėmė žibintą ir nulipo žemyn. Ten buvo bondo lobiai - brangūs daiktai ir daug sidabro. Jie pasiėmė, kiek galėjo panešti, ir išėjo. Egilis pasiėmė skrynią su brangenybėmis ir pasikišo sau po pažastimi.
Jie patraukė girios link, o kai atsidūrė girioje, Egilis sustojo ir tarė:
- Mūsų žygis išėjo visai prastas. Mes pasielgėme taip, kaip karžygiams nedera: prisigrobėme bondo lobių, o jie apie tai nė nežino. Mes negalime užsitraukti sau tokios nešlovės. Grįžkime atgal į sodybą - tegul jie sužino, kas atsitiko.
Visi prieštaravo Egiliui ir ragino jį greičiau grįžti į laivą.
Tada Egilis pastatė skrynią ant žemės ir tekinas pasileido atgal. Pribėgęs prie sodybos, jis pamatė, kad tarnai neša iš virtuvės į kitą trobą padėklus su valgiais. Žaide skaidriai degė ugnis, o viršum jo kabojo katilai. Egilis įėjo į vidų. Čia, kaip įprasta toje šalyje, degė ištisi rąstai, vis toliau ir toliau kišami į žaidą. Egilis pagriebė rąstą, nubėgo prie trobos, kur valgė žmonės, ir pakišo degantį galą po šelmeniu. Beržo tošimi dengtas stogas beregint užsiplieskė, bet žmonės viduje valgė ir gėrė, ir tik tada pastebėjo gaisrą, kai liepsna pro lubas įsimetė į vidų. Tada jie šoko prie durų, bet išeiti buvo ne taip lengva: durys buvo užremtos rąstais, be to, jas saugojo Egilis. Jis žudė ir tuos, kurie pasirodydavo tarpduryje, ir tuos, kurie spėdavo išbėgti. Bet ugnis akimirksniu apėmė visą trobą, ir ji sugriuvo. Visi, ten buvę, žuvo.
Egilis grįžo į girią pas savo bendražygius. Ir jie visi nuėjo prie laivo. Egilis pasakė, kad skrynią, kurią nešėsi, pasiliksiąs sau. O skrynia buvo pilna sidabro.
Torolvas ir visi kiti labai nudžiugo, pamatę Egilį. Kai tik prašvito, jie išplaukė į jūrą.
Akis su sūnumis liko Egilio būryje.
Į vasaros pabaigą jie priplaukė Daniją, tykojo ten prekybinių laivų ir plėšikavo visur, kur tik galėjo.
XLVII. Lundo paėmimas
Tuo metu Daniją ėmė valdyti Haraldas, Gormo sūnus. Jo tėvas Gormas* jau seniai buvo miręs. Šalis kentėjo nuo antpuolių - aplink plaukiojo vikingų laivai.
Akiui buvo pažįstama visa Danija - tiek jūra, tiek ir sausuma. Egilis dažnai klausinėdavo jį, kur būtų galima daugiau pasipelnyti. Kai jie priplaukė Eirarsundą, Akis pasakė, kad netoliese, krašto gilumoje, esąs didelis prekybinis miestas, vadinamas Lundu**. Akis sakė, kad ten esą daug turtų, bet miesto žmonės, ko gero, stosią į kovą. Taip ir buvo pasakyta visam būriui, kad vyrai nuspręstų, ar verta pulti miestą, ar neverta. Nuomonių būta įvairių: vieni ragino pulti, kiti - stojo prieš. Tada buvo nuspręsta, kad paskutinį žodį tars vadai. Torolvas buvo už puolimą. Tada paklausė Egilį, ką jis nusprendęs. Ir Egilis atsakė visa:
12. Lai kardai švytruoja!
Mes - vilkų šėrikai,
vasarą šią daugel
žygių mūsų laukia.
Kuo greičiau į Lundą!
Mes laivus pasuksim,
kad kova užvirtų
dar prieš saulės laidą.
Tada žmonės pasiruošė mūšiui ir patraukė Lundo link. Miestelėnai, sužinoję apie pavojų, irgi pasiruošė kovai. Miestą juosė medinė siena.
* Gormas Senasis, danų karalius, mirė apie 936 m.
** Dabartinis švedų miestas Lundas tada buvo Danijos teritorijoje.
Egil Skallagrimssons saga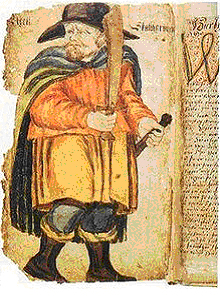 46.
Torulf och Egil var hos Tore och blev väl bemötta. På våren gjorde de i ordning ett stort långskepp och samlade manskap och for i österled och härjade. De tog mycket gods och utkämpade många strider. De drog bort till Kur­land och lade till vid land under en halv månads fred och höll handelsmöte. Och när det var över började de härja och lade till på olika ställen.
En dag lade de till vid en bred älvmynning, och där fanns en stor skog. De gjorde sig i ordning för att gå i land och delade upp sig i följen med tolv män i varje. De gick in i skogen, och det var inte långt innan bygden tog vid. De plundrade och dödade människor, men folket flydde undan och de mötte inget motstånd.
När det gick mot slutet av dagen lät Torulf blåsa till nedgång för manskapet. Männen vände då åter till skogen där de just då befann sig, så att de kunde räkna samman manskapet först när de kom till stranden. När Torulf kom ned hade Egil inte kommit, och då började nattmörkret falla och de ansåg sig inte kunna leta efter honom.
Egil hade gått genom skogen med tolv män. De såg en stor slätt och bygden. En gård låg ett kort stycke ifrån dem. De gick dit och sprang in i husen. De såg inga människor och tog det gods som fanns löst. Där fanns många hus och de stannade där länge. När de hade kommit ut igen och ett stycke från gården hade det kommit manskap mellan dem och skogen, och det gick till angrepp.
Där var en hög gärdsgård mellan dem och skogen. Då sade Egil att de skulle följa den så att man inte skulle kunna angripa dem från alla håll. Egil gick först och därefter en efter en så tätt att det inte gick att komma emellan dem. Kurerna angrep dem hårt och mest med spjut och pilar, men de gick inte i huggstrid.
Egil och hans män upptäckte inte genast när de gick utmed gärdsgården att en annan gärdsgård kom på andra sidan om dem och att de inte kunde komma fram. Kurerna angrep dem i fållan, och några angrep från utsidan och stack spjut och svärd genom gärdsgården, och en del kasta­de kläder om deras vapen. De blev sårade och därnäst blev de alla gripna och bundna. Sedan fördes de hem till gården.
Mannen som hade gården var rik och mäktig. Han hade en fullvuxen son. Man talade om vad man skulle göra med dem. Bonden sade att hans förslag var att de alla skulle dödas. Bondens son sade att det började bli mörkt och att de därför inte skulle få mycket nöje av att plåga dem. Han bad att man skulle vänta till morgonen.
Därefter fördes de in i ett hus och blev hårt bundna. Egil blev bunden vid en stolpe både till händer och fötter, och därefter blev huset ordentligt låst. Kurerna gick in i långhu­set och åt och de var mycket glada. Egil rörde på sig och provade stolpens fasthet, tills den lossnade ur golvet. Sedan föll stolpen. Egil ålade sig av stolpen. Sedan lossade han sina händer med tänderna och när de var fria lossade han repen om fötterna. Därefter befriade han sina följeslagare.
När de alla var fria undersökte de huset för att se var de kunde komma ut. Väggarna på huset var byggda med stora timmerstockar, men i ena änden av huset fanns det en tunn vägg av bräder. De gick dit och bröt upp väggen. De kom ut i ett annat hus. Det var också byggt med timmer.
Då hörde de någon tala under sina fötter. De undersökte detta och fann en lucka i golvet. De öppnade den. Under golvet fanns det en djup grop. De hörde någon tala där nere. Egil frågade vem det var. Han som svarade kallade sig Åke. Egil frågade om han ville komma upp ur gropen. Åke sade att det ville de gärna.
Därefter lät Egil och hans män sänka ned de rep som de varit bundna med och drog upp tre män. Åke sade att de var hans två söner och att de var danska män som hade blivit gripna där förra sommaren.
»Jag blev väl behandlad i vinter«, sade han. »Jag hade hand om skötseln av bondens ägodelar, men pojkarna fick träla hårt och tålde det illa. I vår gjorde vi ett försök att rymma, men vi blev funna. Därefter blev vi satta i den här gropen.«
»Ni måste känna väl till husen«, sade Egil. »Var är det bäst för oss att komma ut härifrån?«
Åke sade att där fanns en annan brädvägg. »Bryt upp den. Då kommer ni ut i en kornlada, och där kan man gå ut som man vill.«
Egil och hans män gjorde som han sade, bröt upp väg­gen, gick sedan in i ladan och därifrån ut. Det var helt mörkt. Då sade följeslagarna att de skulle skynda sig till skogen.
Egil sade till Åke: »Om ni känner till gården ska du visa oss var vi kan få med oss lite gods.«
Åke sade att där inte fattades lösöre. »Här finns ett stort loft som bonden sover i. Där fattas det inte vapen.«
Egil sade att de skulle gå till löftet. När de kom uppför trappan såg de att loftet var öppet. Det var ljus därinne och tjänstefolk som gjorde i ordning männens sängar. Egil sade till några att de skulle stå utanför och vakta så att ingen kom ut. Egil sprang in på löftet och grep vapen, som det fanns gott om där inne. De dödade alla människor som var där inne. Alla beväpnade sig.
Åke gick till en lucka i golvet och öppnade den. Han sade att de skulle gå ned i rummet under golvet. De tog med sig ljus och gick dit. Där gömde bonden sina rikedo­mar, fina saker och mycket silver. Männen tog vad de kun­de bära och gick ut. Egil tog ett stort smyckeskrin under armen. Därefter gick de till skogen.
Men när de kom till skogen stannade Egil och sade: »Det här är mycket illa och omanligt gjort. Vi har stulit gods från bonden utan att han vet om det. Den skammen ska vi aldrig lida. Vi går tillbaka till gården och låter dem veta vad som har hänt.«
Alla sade emot detta. De sade att de ville gå ned till skeppet. Egil sätter ned smyckeskrinet. Sedan ger han sig av och springer till gården. När han kom fram såg han att några tjänstepojkar gick från eldhuset med fat och bar in dem i långhuset. Egil såg att det fanns en stor eld med kittlar i eldhuset. Han gick dit. Där hade burits hem stock­ar och elden hade gjorts så som seden är där att man tänder i änden på stocken och sedan brinner stocken. Egil grep stocken och bar den till långhuset och satte den änden som brann upp under taket och upp mot nävern. Elden tog sig snabbt i riset. Och de som satt och drack märkte inget förrän lågorna slog in genom taket.
Folket sprang då till dörrarna, men det var inte lätt att komma ut, både på grund av riset och för att Egil vaktade dörren. Han fällde män både i dörren och utanför. Det tog bara en kort stund innan långhuset brann så att det störtade samman. Allt manskap som var därinne dog. Egil gick till­baka till skogen och fann sina följeslagare. De gick därefter tillsammans ned till skeppet. Egil sade att han ville ha smyckeskrinet som han tog för egen del, och det var i själva verket fullt med silver.
Torulf och hans män blev mycket glada när Egil kom ned. Så fort det blev morgon seglade de ut från land. Åke och hans söner blev kvar i Egils följe. De seglade mot slutet av sommaren till Danmark och låg i bakhåll för handels­skepp där och plundrade där de kom åt.
47.
Harald Gormsson hade då tagit över makten i Danmark och hans far Gorm var död. Landet blev plundrat av härar. Det låg många vikingar utanför Danmark.
Åke kände till både havet omkring Danmark och landet. Egil frågade honom mycket om var de skulle finna stora rikedomar. När de kom till Öresund sade Åke att där låg en stor handelsplats inne i landet som hette Lund. Han sade att det fanns hopp om att de skulle få byte där, men att det var troligt att de skulle möta motstånd från byborna.
De tog upp saken med manskapet om man skulle besluta sig för att gå i land eller inte. Männen hade delade mening­ar om detta. Några var villiga och några sade emot. Beslu­tet sköts därför över på styrmännen. Torulf var för att gå i land. Därefter talade man med Egil om vad han ansåg. Han framförde en dikt:
Upp skulum órum sverđum, Vi ska, modiga krigare,
ulfs tannlituđr, glitra, höja de glänsande svärden
eigum dáđ at drýgja och utföra stora dåd
í dalmiskunn fiska; under sommaren.
leiti upp til Lundar Var man ska snarast
lýđa hverr sem bráđast, söka sig till Lund.
gerum Þar fyr setr sólar Vi ska söka striden
seiđ ófagran vigra. före solnedgången.
Sedan gjorde männen sig i ordning för att gå i land, och de gick till handelsplatsen. När byfolket upptäckte hotet ställ­de de upp sig till försvar. Där var en trävall omkring plat­sen. Där satte de män till försvar. Det blev strid. Egil gick först in över vallen. Sedan flydde byns män. Där blev stort manfall. De plundrade handelsplatsen och brände den in­nan de drog därifrån. Sedan gick de ned till sina skepp.
Country in which the text is set

Norway Iceland

Featured locations

Norway

Iceland

England

Courland - Kurland - Kurzeme

Denmark

Lund

Impact

Egils saga Skallagrímssonar (The saga of Egil Skallagrimsson / Egil's saga) saga has a prominent place among the roughly 40 Sagas of Icelanders or family sagas, which were written between the early thirteenth century and about 1400 and are regarded as constituting a distinctive genre within the medieval Icelandic saga tradition. The sagas deal with the histories of families and clans moving from Norway to settle in Iceland between the second half of the ninth century and the middle of the eleventh century―including a range of feuds involving both individuals and families that erupted during this process. The sagas vary greatly in length, scope and subject matter; the shortest are only few pages long while the longest, Brennu-Njáls saga (The Saga of Burnt Njal / Njal's Saga) covers well over 200 pages in printed editions. Some of the sagas' heroes are poets, others are outlaws.

The authors of the sagas are unknown; however, many modern scholars believe that Egils saga Skallagrímssonar is not only the oldest family saga, but also that it was written by Snorri Sturluson. Such conclusions are debatable since the sagas form part of a literary tradition of which only a small number of works have been preserved.

Egils saga Skallagrímssonar is preserved in a number of medieval vellum manuscripts, of which the most important is the Möðruvallabók (The book of Modruvellir), which was compiled in the early fourteenth century and contains 11 sagas. It is also preserved in a large number of paper manuscripts. It was first printed in 1782, although the excerpt reproduced here is taken from Sigurður Nordal's Íslensk fornrit edtion (1933).

The saga is divided into two parts. The first begins in Norway and culminates in the death of Egil's uncle Thorolf at the hands of King Harald Fairhair. After slaying King Harald's two nephews in retribution, the rest of the family flees to Iceland. The second part tells the story of Egil's life. The portrait of this figure is one of the most colourful in the entire saga literature. He is described as a brutal, strong and ruthless Viking―even capable of killing his enemies by biting their throats―but one who also has a sensitive, poetic side. Indeed, the poem Egil composed in memory of his sons is considered among the greatest in Icelandic literature.

In his adult years, Egil went on many Viking raids, and he spent most of his life at loggerheads with the Norwegian royal family. However, the way he is portrayed in the saga can also be interpreted as representing an ideal of an Icelandic king.

Egil's Saga is one of the most important among the so-called Family Sagas. In general the sagas form an important cornerstone of Icelandic culture. Their impact on Western literature is considerable, but difficult to pin down.

Balticness

When Egil was 13 years old, he forced his brother Þórólfr to take him on a journey to Norway, in which he had his first confrontation with the Norwegian King Eiríkr Bloodaxe and his wife Gunnhildr. After staying a winter with some friends in Norway (although these events took several years according to a reconstructed chronology of the saga), the brothers went on a Viking raid to the Baltic, where Egil was captured by some Courlanders. This episode is recounted in the excerpt presented here, and it includes an unusually detailed description of a Viking raid to the Baltic.

Viðar Hreinsson

Bibliographic information

Egils saga Skalla-Grímssonar. Íslensk fornrit II. Edited by Sigurður Nordal. Hið íslenska fornritafélag, Reykjavík 1933.

Translations

| | | |
| --- | --- | --- |
| Language | Year | Translator |
| Danish | 1839 | Niels Matthias Petersen |
| Danish | 1875 | N. N. Lefolii |
| Danish | 1901 | Verner Dahlerup & Finnur Jónsson |
| Danish | 1930 | Johannes V. Jensen (abr.) |
| English | 1893 | W. C. Green |
| English | 1930 | Eric Rucker Eddison |
| English | 1975 | Christine Fell |
| English | 1976 | Hermann Pálsson & Paul Edwards |
| English | 1997 | Bernard Scudder |
| Finnish | 1994 | Antti Tuuri |
| German | 1888 | Ferdinand Khull |
| German | 1911 | Felix Niedner |
| German | 1936 | Gustav Wenz |
| German | 1982 | Rolf Heller |
| German | 1978 (1996) | Kurt Schier |
| German | 2011 | Reinhard Hennig |
| Lithuanian | 1975 | Svetlana Steponavičienė |
| Norwegian | 1914 | Leiv Heggstad (abr.) |
| Norwegian | 1945 | Jan Hovstad (abr.) |
| Norwegian | 1951 | Hallvard Lie |
| Norwegian | 1951 | Anders Ljono & Sverre Solum (abr.) |
| Polish | 1974 | Apolonia Załuska-Strömberg |
| Russian | 1956 | S. S. Maslova-Lashanskaya & V. V. Koshkin |
| Swedish | 1693 | Petter Salan |
| Swedish | 1883 | A. U. Bååth |
| Swedish | 1930 | Per Wieselgren |
| Swedish | 1933 | Erik Noreen |
| Swedish | 1935 | Hjalmar Alving |
| Swedish | 1962 | Åke Ohlmarks |
| Swedish | 1992 | Karl G. Johansson |

Year of first publication

1782

Place of first publication

Originally written in the early thirteenth century (c. 1230) - first publication 1782
Hrappsey Island, Iceland