Looking back without anger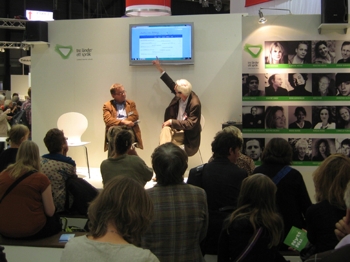 Since we held our Berlin conference in the beginning of April on "Cultural Diversity, language and Digital Content", there has been a meeting on 23rd August in Stockholm at the Council of Baltic Sea States Secretariat (wonderfully situated in the Old Town, facing all the cruise ships entering Stockholm) with Jan Lundin, General Secetary, and Senior Adviser Nanna Magnadóttir from CBSS as our hosts and Gunnar Sahlin, chairman of Bibliotheca Baltica, Lars Kleberg, prof em from Södertörn University, and me as participants. We discussed further possibilities of cooperation. Talks with the German Ambassador for the CBSS will follow at the German Foreign Office on 28th October.
Clas Zilliacus and me presented the virtual Baltic Sea Library at the Gothenburg book fair (see pictures), and in Frankfurt at the book fair, I had negotiations with different Scandinavian publishing houses and met several representatives of Goethe-Institut from Munich. I also received a copy of the magazine "mare" from Hamburg with a one page review of our BSL, brilliantly written by Unn Gustafsson (who participated in our conference in April) and entitled: "Virtuell durch die Ostseen".
Meanwhile Tomas Tranströmer has been announced as the winner of this year's Nobel prize. As he is so central to the whole idea of the Baltic Sea Library, we might as well ask him to become our patron. His "Baltics" (which he himself gave us the right to use) has now been placed on our homepage in original and 8 translations. Next week I will meet the Russian translator Alexei Khairetdinov who is about to finalise his version. Then only Polish and Lithuanian are missing. Also the Icelandic translation by Hjörtur Pálsson is done esp. for our project.
This is also the case for the German version of Aino Kallas' story "Lasnamäen valkea laiva" (The White Ship), so now you can read it in Finnish, Swedish, Norwegian or German (Estonian will follow soon).
Since summer we have made good progress, integrating more and more texts, pictures and biographies (though not yet audio material). The editors are now requested to deliver a second round of proposals, and the first have arrived. Let us keep up the good spirit and the hope for more means in the future!
Best wishes!
Klaus-Jürgen Liedtke