In Lapland (Lotten von Düben)
What thoughts occurred to Karin Savalo when a company of travellers appeared at the Lapp (Sami) settlement of Tuorpon in the summer of 1868? The strangers unpacked a large camera from birch-bark hampers carried by bearers. A woman asked if she could take some photographs. Karin and her daughter Inga stationed themselves in front of the camera. Why was it so important that she and the girl, after being photographed from the front, should turn sideways? Karin Savalo did not know.
The woman photographer was Lotten von Düben. It is hard to imagine her allowing herself to be photographed in the same way. In her own social circle it was customary for women to be portrayed in full figure, dressed in beautiful gowns. Such photos tended to be flattering as one wanted pictures of oneself to keep at home and to send to friends and acquaintances.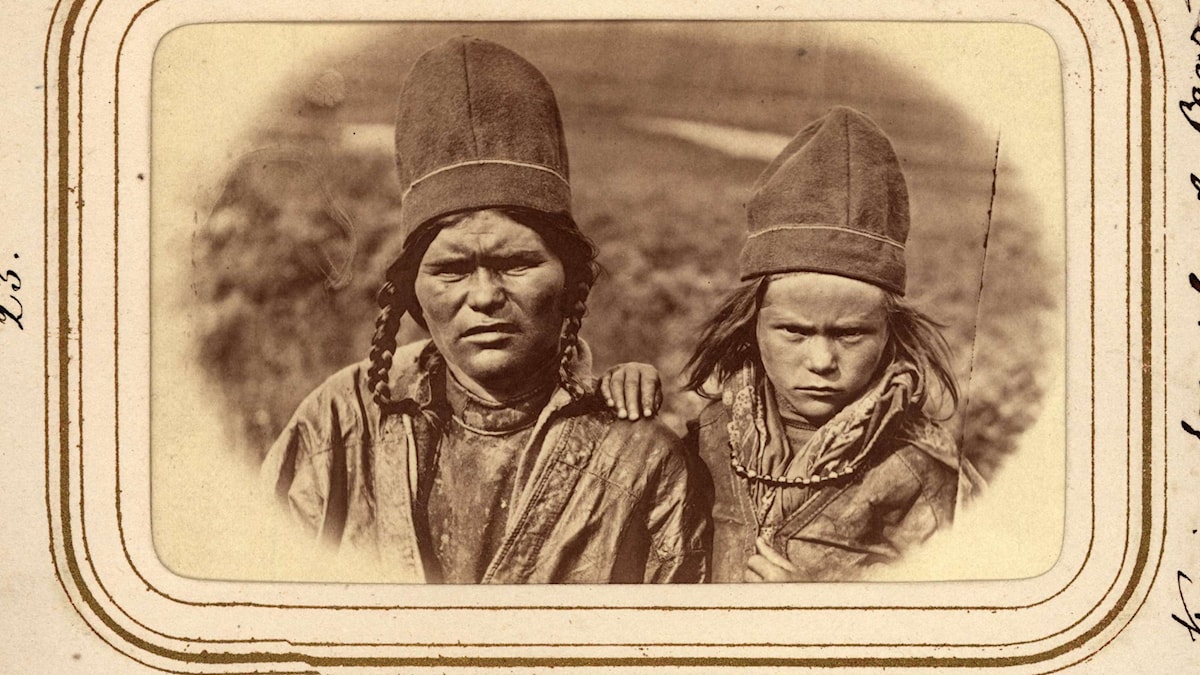 The portrait of Karin Savalo and her daughter Inga is part of a collection of photographs and artefacts to be found at the Nordic Museum in Stockholm. The visit to Tuorpon village took place when Lotten was on an expedition led by her husband, Gustaf von Düben, to study the mountain Lapps in their Lule territories in 1868. The couple undertook a new journey in the summer of 1871, this time to the Lapp territories at Sorsele, Lule and Pite.
By the 1860s, photography had already gained a firm foothold in Sweden. Daguerreotype had already been replaced by the glass negative. This sheet of glass coated with collodion, introduced in Sweden in 1853 by Carl Gustaf Carleman, had revolutionized photography. It was now possible to make an unlimited number of copies from a negative.
Among other things the glass negative along with the technique of producing positive images on paper resulted in an exclusive type of visiting-card. The photographer took six, eight or twelve pictures of his subject. These were developed into contact prints sized 6 x 9 cm and mounted on cardboard. Exchanging such visiting-cards was very much in fashion, especially amongst the bourgeoisie. Special visiting-card albums lay on drawing-room tables with photos of friends and relations.
Photographers also used such visiting-cards to sell views of the city. From 1865 to 1870 there was a positive explosion of visiting-cards in Sweden, and the number of professional photographers increased rapidly. Unlike other crafts, photography was not barred to women. In the 1860s there were already fifteen women photographers registered in Stockholm. And Berta Valerius, Rosalie Sjöman and Carolina von Knorring were among the leading names in their field.
Stereophotos were also very popular. They consist of two linked photographs of the same subject but with a slight shift in perspective. Exotic places and spectacular events such as earthquakes, war scenes and royal funerals were studied through stereoscopes. They gave the giddy impression of a three-dimensional picture.
Who was Lotten von Düben or, to be more correct, Carolina Charlotta Mariana von Düben? Little has been written about her in Sweden's history of photography.
Lotten was of noble birth. She was born in 1828, the third child in a family of six. Her parents were Major Robert yon Bahr and Lady Eva Carolina Åkerhielm av Margretelund. Lotten grew up on the family estate, first at Söderby and later at Margretelund in the province of Uppland. When she was 27 the family began to spend the winters at an apartment in central Stockholm on what is now Vasagatan.
In 1857, she married Baron Gustaf von Düben. He was Doctor of Medicine and Professor of Pathological Anatomy at the Caroline Institute in Stockholm. The couple settled into an apartment on what is now Jakobsgatan. It was rent-free as Gustaf von Düben was secretary of the Swedish Medical Society who owned the building. At that time the family included Gustaf von Düben's mother, a maid and a cook.
In 1860 Gustaf von Düben became Professor of Medicine (anatomy and physiology) at the Caroline Institute and was also appointed superintendent there. He succeeded Anders Retzius, the country's chief innovator in the field of physical anthropology. Retzius had introduced the concept of skull indexing, by which people could be classified as brachycephales (round-heads) and dolichocephales (long-heads). He had also created an anatomical museum that was the pride of the institute. The large collection there consisted principally of Lapp crania. Around this period, craniology had an important place in scientific thinking, something that we find rather difficult to understand today. It brought together the three sciences of anatomy, history and archaeology, and was thought to contain the key to important questions about the common history and geographical distribution of different peoples.
The post of superintendent at the Caroline Institute carried with it free accommodation at a seven-room apartment on Hantverkargatan. The building also housed others who worked or studied at the institute, among them Carl Curman. In the 1880s he was to become one of Sweden's foremost amateur photographers. In 1861 the Caroline Institute needed a studio for medical photography. Carl Curman established one in some of the intern rooms two flights up. Here he taught himself how to work with the wet collodion negatives then available. It was probably here, too, that Lotten von Düben's interest in photography was first aroused. She is said to have learned the art of photography from a relative with a studio.
Gustaf Retzius, the son of Anders Retzius, became apprenticed to Carl Curman. His ambition was to continue his father's craniological studies. He learnt not only the basic techniques of photography but also how to take studio pictures of human skulls: "I was especially interested in the study of Lapp crania, of which my father has managed to assemble a particularly beautiful and representative collection at the anatomical museum in the Caroline Institute. I began photographing some of them in half their original size and informed von Düben about this. One fine day shortly thereafter he approached me and said: 'I have decided to work on the Lapp crania, so you needn't bother.'" Thus Gustaf von Düben "took over" the study of Lapp skulls. Possibly this line of research belonged to the post he held. Gustaf Retzius, who became a well-known anatomist, was obliged to concentrate instead on craniological research in Finland. In 1878 he published "Finnish Crania".
The Lapland journeys of 1868 and 1871
In 1868 Gustaf von Düben required new material in order to work on the craniological collections at the Caroline Institute. He planned to catalogue them and supply a brief ethnological description.
On 3 July 1868 the party left Stockholm on the steamboat Njord on the first Swedish expedition to Lapp territory in modern times. It comprised Gustaf von Düben, Lotten von Düben as photographer, an assistant named G H Santesson and a cook, Johanna Björklund. They took with them a Pincher bitch, Tova.
Even if the primary purpose of the trip was scientific, the expedition took the usual tourist route. The chief destination was Kvikkjokk and from Luleå the party travelled up the river Lule towards the mountains. As crown prince, Carl XV had followed this route, as had the English officer Alexander Hutchinson, author of the widely-read "Try Lapland. A fresh field for summer tourists".
On their 1871 expedition the von Dübens met four tourists in Jokkmokk, each equipped with rifle and fishing rods, and one of them with a shower unit. All were carrying Hutchinson's book.
Lotten von Düben was sensibly dressed for the long journey in what was called bloomers. By the standards of the day, this was a revolutionary sporting outfit for women, with knee-length trousers. Her heavy photographic equipment was carried in birch-bark hampers by Lapp bearers. As the expedition's photographer she had a complicated task to perform. Just before each take she had to prepare the negative with iodized collodion. The exposure and developing had to be done while the plate was wet. Wet collodion negatives were sensitive to light only as long as the emulsion was moist. The least error and everything was ruined. This procedure took place in a special portable darkroom tent.
Lotten's camera may have been of a type such as P Meagher's Tourist Binocular Camera. Such cameras had only one bellow with an inner dividing wall. This wall was constructed like a window-blind and could be detached if Lotten wished to use the whole plate for photos sized 12.7 x 19.1 cm. Some of P Meagher's stereocameras also had shutters. Otherwise, due to the long exposure times required, photographers took pictures by removing the lens lid and then replacing it after the appropriate number of seconds or minutes. This was the technique commonly used for plate exposures until the light-sensitive gelatine dry plates first manufactured in 1871 became widespread in the 1880s. It was not until 1888 that the Prussian Ottomar Anschütz took out a patent on a curtain shutter. This shortened exposure times dramatically, down to 1/1000 of a second.
The Lapland Journey of 1868 lasted two months and the travellers did not return to Stockholm until the beginning of September.
In 1871 Gustaf and Lotten von Düben made a further trip to Lapland. By that time Gustaf had worked his way through the material on the mountain Lapps he had gathered in 1868. He needed to supplement it with material on the Lapps living in the forests and settlements between the rivers Vindelälven and Lule in the Sorsele, Pite and Lule territories. This time the expedition consisted of the von Dübens, Gustaf's young relative Carl Forsstrand and the cook Sophie. Tova the dog went along once again.
The journey began on 14 June 1871 with a sea voyage to Piteå. The first objective was Arvidsjaur, where many Lapps gathered during the midsummer holiday. Then the party went on to Sorsele, crossing lake Storavan in a rowboat. The next stage was a hike across wide tracts of forest and marsh. The travellers stayed for three weeks at the home of a Lapp clergyman in Sorsele, Anders Fjellner, who was an authority on the Lapps and their way of life.
The party also visited Ammarnäs, where mountain Lapps and settlers gathered for weddings, christenings and communion. Gustaf von Düben wrote in his travel journal: "… there was an exchange of cheeses, articles of clothing, wood carvings and the like for silk, glass beads, coinage, etc." But the Lapps were not happy about being photographed.
"Although we had spent a couple of days mixing with the Lapps and they had been most open and forthcoming about the conditions they lived under, they were never totally convinced that we were honest in our purpose. Immediately on our arrival we had spoken to them about the photography, something they already knew about or quickly came to understand. Yet for a couple of days it was impossible to get them to sit for us, even though we made appointments and sent messengers to fetch them. We put this down to the customary tardiness and indecision of the Lapps, but later heard a different explanation. When we told them we wanted them to wear their festive attire, and that the old women should have their silver ornaments on, especially the hereditary princess Maria Jonsd. Grahn, they grew wary and withdrew to discuss the matter. They were afraid that if they allowed themselves to be photographed in their costly apparel I would show the prints to the 'big chief' who would then realize, or deduce by their fine clothing, that they were richer than they claimed to be, whereupon he would increase their taxes; therefore they thought it best to avoid being photographed altogether. Fortunately this was all explained to Pastor M. who was able to put their minds at rest, after which they proved quite willing to cooperate."
From Ammarnäs the party travelled to Arjeplog, Arvidsjaur and Jokkmokk, then via Luleå to Stockholm. They arrived back in the capital on 26 August, having covered more than 3,000 km.
On this second expedition Lotten took two cameras with her, the stereocamera and one with wetplates sized 20 x 13.5 cm. The equipment was extremely heavy and sometimes ten or twelve bearers had to be used.
After these trips Gustaf von Düben had so much material that he felt he had assembled "a reasonably complete picture of the people". In 1873 he published the voluminous "About Lapland and the Lapps, primarily the Swedish community. Ethnographic studies." It became a classic in the field of Lapp research.
Lotten's photos from the two journeys served as models for the woodcuts that illustrated the books. At that time it was not possible to reproduce photographs in print. She had also taken pictures of a wide range of Lapp artefacts and these, too, appeared in the book.
Expeditions and the exposure of the exotic
It may seem strange that Gustaf and Lotten von Düben made these expeditions to the Lapp territories. But this was the age of the explorer. In the United States, photographers accompanied the expeditions sent to investigate mineral deposits and Indians. In Africa, Stanley took his camera along on his expeditions. Most of those who practised the art of photography came from the upper strata of society. Their pictures of "the natives" were then exhibited in the drawing-rooms of London, Paris and Berlin.
The Swedish scientist Adolf Erik Nordenskiöld took along Louis Palander as navigator and photographer on the expedition to Spitzbergen in 1872—73. Palander, who later led the Vega expedition, also took pictures of the local chukchi who approached the icebound boat. The photos are fine, eloquent character studies.
But why did so many scientists, both from the Nordic area and abroad, direct their gaze towards the Lapps and Lapland in the 1870s? Groups of Lapps travelled round Europe in caravans, exhibiting themselves to the public. At the Hagenbeck Zoo in Hamburg, for example, a Lapp family with reindeer were displayed in 1874 and were followed four years later by a group of ten Lapps from Kautokeino. The Lapps and their remarkable reindeer were tremendously popular but American Indians, Eskimoes, Senegalese and Kalmucks were also put on display.
Exhibitions and shows involving "fringe" peoples were ideal stamping-grounds for anthropologists not wishing to undertake long journeys of their own. They flocked to such events with cameras and measuring instruments. Scientists wrote out "certificates of authenticity" for the touring troupers and in return had their study material delivered on a plate. The most "fortunate" case of all was that of the Indian chief White Fox. He died of tuberculosis in Gothenburg in 1875. His body was transported to the Caroline Institute in Stockholm, where Gustaf von Düben issued invitations for a showing at the morgue! The incident gives some idea of the way minorities were regarded in those days.
It was at this time, too, that most of today's ethnographic museums were founded, as a result of colonialism and to supplement the existing museums that focused on indigenous culture. Hagenbeck gave the ethnographic samples left over from the first Lapp tour to the ethnographic museum in Leipzig. Gustaf von Düben gave or sold most of his extensive Lapp material to Arthur Hazelius's Scandinavian Ethnographic Exhibition (renamed the Nordic Museum in 1880).
However, more and more scientists wanted to visit the areas inhabited by the Lapps. A steady stream of explorers from the whole of Europe flowed northwards. Scandinavians followed in their footsteps. Norwegians J A Friis and Ludwig Daa visited the Russian Lapp territories in 1867. Gustaf von Düben travelled around Lapland in 1868 and 1871. A large Finnish expedition went to the Kola Peninsula in the mid-l880s.
Most of these travellers measured the Lapps for anthropological purposes. They took measurements and casts, collected skulls and carried out "type studies": stereotype photographs en face and in profile. The Lapps were regarded as a link in the biological chain, a left-over from a bygone age, and it was hoped they would provide the answers to important questions.
Lapp pictures and other comparable photographs
Lotten von Düben's photographs of Lapps reflect that period's preoccupation with "the exotic". The stereophoto of Karin Savalo and her daughter portrayed head-on and then from the side were taken to help Gustaf von Düben with his skull measurements. The pictures can be compared with the ones photographer Ellen Wahlström took of detainees at Särna in the 1920s. In the book "Ljusets hemligheter (The Secrets of Light)" by Clas Thor she tells how she touched up personal portraits but still found that some customers were dissatisfied with their appearance... "With my retouching pen I had sought to make their skin as smooth as peach. But that still wouldn't do. There were, however, exceptions — when the constable brought in the detainees. Then it was simply a case of full-face, side shot and no retouching. Every freckle was to remain visible!"
As early as the 1860s police in the metropolises were storing photographic files in special criminal archives. One of these has been preserved, from the county gaol in Malmö. The oldest photograph in it is from 1859. The pictures are naked, unretouched "mug-shots" of prisoners. Alongside them are captions carefully noting dates of birth and the nature of each crime. Similar data accompanies Lotten von Düben's photographs. In the 1880s it was common to photograph prisoner enface and in profile (something that is still done).
The way Lapps were viewed, and photographed, has parallels with the attitude taken towards the American Indians. The Ethnological Bureau in Washington DC conducted extensive photographic documentation of Indians. In 1888, for example, an important delegation of Rosebud Sioux Indians was exposed to the camera. The photographer placed them against backdrops or objects that would ensure precise measurement. In order to record different facial angles it was considered especially important to take pictures both from the front and side. The American photographer James E. Mc Clees had offered in the 1850s to do portraits of Indians for historical reasons, "in memory of a race that is now rapidly dwindling in number". Just as the Lapps in Ammarnäs were dressed up in silver for the photographer, the American Indians were sometimes dressed up in borrowed costumes. John Wesley Powell, who led one of the big expeditions of the 1860s, collected clothes from the Ute Indians and sent them to a museum. Five years later he returned, having borrowed the clothes from the museum, dressed the Indians in them and had them photographed by the expedition's own photographer. He wanted a specific image — a picture of an ancient lifestyle, not of real Indian life on the reservation.
The contrast with the visiting-cards so popular at the time is enormous. These were mainly idealized portraits of the nouveaux riches. The standard pose for portrait painting, inherited from Daguerreotype pictures, lived on in such cards. Social status was brought out by the person's self-confident bearing. In the studio the impression was reinforced by the use of a curtain, a pillar or a handsome chair to frame the subject. Satisfying the customer was after all the whole point.
The visiting-cards of the 1860s almost always showed people full length. The face occupies only a very small space in the photo. Towards the end of the decade half-length pictures began to crop up and these dominated the 1870s.
By the end of the 1860s photo portraits had become much cheaper but having one's photograph taken was to a great extent a class matter. Peasantry and ordinary townsfolk were not as anxious as the bourgeoisie to reproduce themselves in pictures for distribution amongst friends and relatives.
Lotten von Düben's pictures of the Lapps, however, acquire another dimension precisely because they are not idealized portraits. Many of them are close-ups in which the face dominates. They invite you to ponder over these people's lives. Men and women whose tough existences have left their mark, ageing them prematurely. Some are group pictures showing the Lapps in their everyday surroundings — an environment that has since altered considerably.
We know something about how Gustaf von Düben felt on the subject of photographing Lapps. Back in 1847, after visiting England, the Cape of Good Hope, India and China he had written about this kind of photography in relation to bushmen and Hottentots, thus: "What distinguishes human beings, even those belonging to sharply defined races, is their tendency towards infinite variation. When classifying groups, therefore, one should not restrict oneself to just a few character types but should take them all into account." But, he goes on, "differences do exist, and however indeterminate and unscientific these may be, it is the overall impression of them that should rule our judgment as we still lack the ability to describe such differences, to express them in words. In this respect a picture is far superior."
Elsewhere in his travel journal von Düben writes: "...we also took with us photographic apparatus, which greatly increased the weight and bulk of our baggage, although it did enable us to secure more enduring memories of the events and people that passed review than could be furnished by our eyes alone."
What Karin Savalo thought about the photography sessions we will never know. And we can only speculate as to Lotten von Düben's thoughts on the subject.
At home there were a large number of Lapp artefacts that Gustaf von Düben wanted to have photographed. These pictures, too, were to be used as a basis for illustrations in his book. Lotten also took pictures of some of Gustaf's relatives. They were decked out in Lapp costumes and asked to adopt certain poses, standing on skis, sitting on Lapp sledges, etc. She did these shots in an unidentified studio. Arthur Hazelius used them in 1874 in a panorama scene entitled "Autumn departure in the Lule Lapp territory" as part of the Scandinavian Ethnographic Exhibition. C A Söderman used Lotten's pictures from the expeditions to model the faces of the puppets included in the scene. It attracted widespread admiration and was included in the World Exhibition in Paris in 1878 and Chicago 1893.
No doubt Lotten was further pleased when Paul Belloni Du Chaillu wanted to use the pictures as the basis for the illustrations in his book "The Land of the Midnight Sun", which came out in 1881 and in a Swedish translation in 1899.
Nature shots
Lotten von Düben also shot a lot of nature photos on the two journeys. She was one of the first to capture the Swedish mountains on film and waterfalls such as Harsprånget and Stora Sjöfallet. The pictures of the waterfalls were taken about 40 years before expansion work began on the hydroelectric plant at Jokkmokk. During the 1860s Swedish photographers produced a huge number of topographical pictures. But these were almost always city views. At the beginning of the decade most of Sweden's major towns and cities had already been recorded on visiting-cards. By the end of it virtually all of them had. One photographer, Alexander Gylfe, shot some exquisite landscape studies along the lower Norrland coast around 1870.
But no professional Swedish photographer had journeyed to Lapland. In Norway, however, some photographers had begun to shoot landscapes. Marcus Selmer and Knud Knudsen were the first. These photographers went out on assignments that were commercially lucrative — pictures that tourists would be willing to buy. Even if the photographs are majestic and beautiful they can not be liberated from this mercenary aspect. To a great degree, photographers created the popular image of Norway, and later Sweden.
But Lotten von Düben was an amateur photographer and did not have to worry about selling her pictures. Some of them were to be used as a basis for illustrations in Gustaf's book. But a lot of her pictures were doubtless taken because she enjoyed photography and wanted to keep a record of the journey. When she and her husband came home she had small "books" or albums made on which the title "Memories of Lapland 1868" was stamped in gold. She filled them with stereo-photos of nature scenes and one or two pictures of Lapps and the expedition itself. The albums were then given away to friends who could examine them through their stereoscopes. There are still a number of albums in the collections at The Nordic Museum.
But she and Gustaf also sought out the majestic places and sights recorded in travel and tourist literature. When visiting the great waterfall, Stora Sjöfallet, Gustaf von Düben refers directly to a major picture-book about Lapland by Carl Anton Pettersson published in 1866. "We worked our way out onto some bare rock along the shore of the basin" ... "The spectacle must be superb when the water is at full flow, even if it can by no means measure up to the picture in Pettersson's Lapland ."
Later, in "On Lapland and the Lapps" he himself describes how to get the best view of the falls at Porjus: "The middle falls ... should be seen from the southern shore of the river, whither one voyages by boat from the Porjus settlement. Niommelsaska should be seen from the northern shore."
In the mountain region they also sought the physical and spiritual well-being that was not be found in the city. Gustaf von Düben was of course a doctor. Stockholm at this time was a city with a high mortality rate. Tuberculosis was common. As late as 1853 cholera had claimed 2,800 victims in Stockholm. Nature was considered good for the soul and water health-bringing. One should bathe in the sea and drink water. For a few summers in the 1860s Gustaf von Düben also held the post of manager of Medevi brunn, Sweden's oldest spa. Carl Curman was a balneologist, in other words a specialist on different kinds of baths and their medical significance. Among other things he turned the salt baths at Lysekil into the foremost health resort in Bohuslän County. He also founded several indoor baths in Stockholm. Being a highly skilled amateur photographer, he took pictures of nature, the sea and the coastal rocks of Bohuslän.
Apart from the fact that water in the form of lakes and falls was rewarding stuff for a photographer, its alleged health-bringing qualities doubtless were a factor in Lotten's choice of subject. She was also beginning to draw inspiration from the painters of the Düsseldorf school. When Gustaf von Düben describes a visit to photograph the falls at Harsprånget he refers directly to the painting of Marcus Larsson.
Not until the 1880s was there any great interest in nature and landscape photography in Sweden. Then a number of photographers began to make a living from selling pictures to tourists. Amateur photographers, whose number increased markedly in the 1880s and 1890s, also took a lot of nature photos. The Swedish Tourist Association, founded in 1885, began to "discover" Sweden under the slogan "Know thy country", an ambitious campaign aimed at both indigenous and foreign tourists. The tourist authorities also initiated a series of photo competitions, starting in 1893. They were looking for pictures of different landscapes in Sweden and different "folk types". Lotten von Düben sent in some of her Lapp pictures.
When Gustaf von Düben retired in 1887 he and Lotten moved to their property at Nysund in Södermanland. Four years later fire destroyed the collection of skulls at the Caroline Institute. Gustaf von Düben died in 1892. His great anthropological work on Lapp crania, which was the original reason for the Lapland expeditions, was not published during his lifetime. Not until 1910 did "Crania lapponica" appear, with a foreword by Gustaf Retzius. Lotten von Düben lived on at Nysund until 1915, when she died at the age of 87. As the couple had no children a relative went through their estate after Lotten's death. The photographs were presented to the Nordic Museum in 1939. They are preserved there together with the pictures Lotten herself had given to the museum from 1874 onwards. The gift also included seven negatives. Fiftynine of the remaining negatives are kept at the Uppsala University Library, to which they were transferred from the Institute of Physical Geography.
We do not know what happened to Lotten von Düben's cameras. After her return from Lapland in 1871 she only took pictures of Lapp artefacts requested by her husband for his book. As described above, at the bidding of Arthur Hazelius she also did some studio shots of Gustaf von Düben's relatives dressed up in Lapp costume. That, as far as we know, was all. Lotten seems to have viewed photography solely as a way to help her husband in his work. There is nothing to suggest that she was motivated by a desire to say something through her pictures.
Because of her choice of subject, the Lapps and their world, her pictures were unique from a Swedish viewpoint. Internationally speaking, her work has its place in the journeys-of-exploration category and amongst the early photography of alien cultures to be found in anthropological collections. Lotten von Düben took these pictures at a time when photography largely meant studio portraits and beautiful city views. At the same time her pictures have something of a documentary, photo-reportage quality about them. In that genre, therefore, she may be numbered among the pioneers.
Literature:
Broberg, Gunnar: Lappkaravaner på villovägar. Antropologi och synen på samerna fram till sekelskiftet 1900. I: Lychnos. Lärdomshistoriska samfundets årsbok 1981-1982 (1982) s 27-68.
Düben, Gustaf von: I Lappland 1868 och 1871. Reseberättelse av Gustaf von Düben bearbetad och kommenterad av Gunnar Broberg, Leif Lindin och Ingvar Svanberg. Umeå 1989. Acta Bothniensia occidentialis, 10.
Düben, Gustaf von: Om Lappland och lapparne, företrädesvis de svenske. Ethnografiska studier. Nyutgåva 1977 med förord och efterord av Jan Garnert.
Fleming, Paula: Indianer på glasplåt — traditionen att fotografera indianer. I: Jacobson, Claes-Håkan: Rosebud Sioux. Ett folkslag i förvandling. Stockholm (1989, s 61-82.
Hellsten, Per: Lotten von Düben — fotografier i Lappland. I: Se dig om i glädje. Sex fotografer — sex temperament. Utställningskatalog från Fotografiska museet (1981) s 27-32.
Hellsten, Per: Våra första samefotografier. I: Från Bygd och vildmark. Luleå stifts årsbok (1973) s 5-16.
Rittsel, Pär & Söderberg, Rolf: Den svenska fotografins historia. Stockholm 1983.
© Eva Dahlman / Stephen Croall, 1991, 2021
Originally published as "Introduction" to: Lotten von Düben. I Lappland / In Lapland. Stockholm: Alfabeta 1991