Metai
Erika Drungytė reads Donelaitis
PAVASARIO LINKSMYBĖS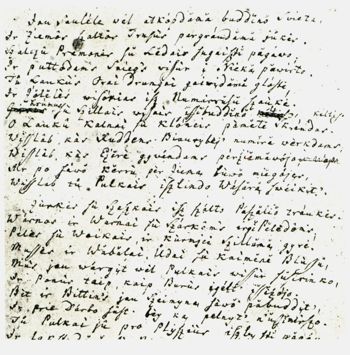 Jau saulelė vėl atkopdama budino svietą
Ir žiemos šaltos triūsus pargriaudama juokės.
Šalčių pramonės su ledais sugaišti pagavo,
Ir putodams sniegs visur į nieką pavirto.
Tuo laukus orai drungni gaivindami glostė
Ir žoleles visokias iš numirusių šaukė.
Krūmai su šilais visais išsibudino keltis,
O laukų kalnai su kloniais pametė skrandas.
Vislab, kas rudens biaurybėj numirė verkdams,
Vislab, kas ežere gyvendams peržiemavojo
Ar po savo keru per žiemą buvo miegojęs,
Vislab tuo pulkais išlindo vasarą sveikint.
- - - - - - - - - -
Vei, saulelė, tikt žiūrėk! atkopdama greitai,
Brinkina jau laukus ir žolę ragina keltis;
Vei! ne daugio reiks, tuo vėl kvietkas pasidarę
Uostysim ir garbinsim pavasarį margą.
Bet ir jūs, darbai, mus vėl užniksite dovyt,
Kad turėsim su vargais į baudžiavą trauktis.
Ak! kiek trūso reiks, ik į skūnes sugabensim,
Kas ant aukšto dar ar klėtyj guli be diego;
Ir kiek dar palūkėt reikės, iki šiupinį virsim.
Nugi dabar, į dievišką žiūrėdami ranką,
Judinkimės pamaži nuolatai nusitvert savo darbus
Ir nepabūkim, kad išgirsim darganas ūžiant
Ar kad orai mus daugsyk visoki nugandins!
Skubinkimės, eime nugaminkim reikalą kožną!
Orei žagrių reiks, palyčių beigi noragų;
O akėčioms reiks negelių bei bingusių kuinų.
Žinom juk, ką jaučiai mums rėplodami riekia,
Kuinai tur, kad liepiam jiems, skraidydami trupint."
,,Rods, – tarė Slunkius, – vėl bensyk su padėjimu dievo
Išmiegot ir sąnarius atgaivinti galėjom.
Ak! kieksyk aš, rūpesčių visų neminėdams,
Ištisas ir užklots krankiau pas kakalį šiltą.
Ak! kad būt ilgiaus žiema pas mus pasilikus,
Ir kad vis miegot mums būtų sviete paskirta.
Ogi dabar, žėlėk dieve! jau vasara randas
Ir darbų naštas nusitvert vėl ragina rengtis.
Ak! man ašaros į akis jau pradeda trauktis;
O mano motė (žinot juk, koks moterų būdas)
Vis susiraukus ir rankas grąžydama verkia.
Aš vaitodams vis ir tokią bėdą matydams,
Ak! močiute, tariu, bensyk ir verkusi liaukis;
Juk dar čėso yr, ir mes atliksime darbus.
Žinom juk, kad ratas sens, pamaži besisukdams,
Tą daugsyk apgauna, kur vis ritasi šokdams;
O kieksyk sutrūksta jis permier besisukdams!
Kuinas taipo jau ramboks, vis žingine žergdams,
Kartais dar toliaus uždėtą nuneša naštą,
Kaip tūls žirgs durnuodams ir piestu šokinėdams;
O kiek sykių dar iškadą sau pasidaro.
Ant! smalininks, saikėt ir išparduot savo smalą
Per kiemus pamaži važinėdams, kirkina ratą,
O tiktai nusipelno jis sau pinigą grečną.
Kas iš to, kad būras tūls, per daug bėginėdams
Ir permier besirūpindams, savo sunkina širdį!
Tėvs mano Kubas taip glūpai kol gyvs nepadarė,
O ir jo tėvs Stepas taip gyvent nemokino.
«Vaikai! – rėkdavo jis, ant demblio girts išsitiesęs
Ir su žaku prastu kaip prastas būrs užsiklojęs, –
Vaikai! šiukštu jums naujus niekus pramanyti,
Taip gyvenkit, kaip mes, tėvai jūsų gyvenom.
Vis protingai, vis pamaži nusitverkite darbus.
Čėdykitės kytriai jauni, dar būdami klapais,
Kad dar ir senysta ką ras atšokdama kartą.»
Tuos žodelius savo tėvo aš tikrai nusitvėriau
Ir, kol gyvs krutėsiu, jų kasdien paminėsiu."
Tas durnas kalbas visi girdėdami būrai
Gėdėjos; bet Pričkus jam drąsa pasakydams:
"Eik, – tarė, – šūdvabali! kur šūdvabaliai pasilinksmin.
Juk tu jau su savo namais, kasmets šūdinėdams,
Sau ir mums, lietuvninkams, padarei daug gėdos.
Aš, kad man skvieruot pons amtsrots urdelį siuntė,
Tau, žinai, daugsyk taipo per nugarą drožiau,
Kad iš skrandos tavo senos sklypai pasidarė.
O kieksyk tave vakmistras kone visą nulupo
Ir tu raišėdams vos vos į baudžiavą traukeis.
Neprieteliau! tu, lėbaudams ir vis smaguriaudams,
Lauką su tvoroms ir namą visą suėdei;
O dar ir savo vaikesčius pagadint nesigėdi?
Bet, jūs viežlybi kaimynai, jūs gaspadoriai
Su grečnoms gaspadinėms, mums nereik nusigėdėt,
Kad mes, būriškus jau vėl nusitverdami darbus,
Mėšlus rausim ir laukus įdirbdami vargsim;
Juk ir pirmas sviets, šventybę savo prapuldęs,
Su darbais ir rūpesčiais savo pleškino puodą:
Nės be trūso dievs mus išmaitint nežadėjo,
O tingėdami vis ir snausdami sviete netinkam.
Kad skilvys išalkęs nor gardžiai pasilinksmint,
Tai pirma tur visas kūns viernai pasipurtint.
Taigi nutverkim jau kiekviens savo jautį
Ir išrėdę jį kaip reik klausyt pamokinkim:
Joys of Spring
Translated by N. Rastenis
THE climbing sun again was wakening the world
And laughing at the wreck of frigid winter's trade.
The icy season's grip was thouroughly undone,
And heaps of high-piled snow had dwindled down to naught.
Each day a soft south breeze caressed the barren fields
And coaxed each blade and leaf to rise again and live.
Each hill and dale had cast away the snowy furs;
The bush and heath were glad to heed the springtime's call.
All things that died away in tearful autumn's mire,
All things that lay in sleep beneath the winter's ice,
Or huddled shivering under a stunted bush,
Crept out in joyous throngs to hail the smiling spring.
- - - - - - - - - -
"Look yon, how the bright sun keeps climbing up each day,
Demoists the soil and goads the grass blades to arise.
Soon in the meadows we will gather fresh spring blooms,
Enjoy their scents divine and hail the joyous spring.
Of course the heavy toils will lay upon us too,
For we will have to do the pressing feudal tasks.
Yes, it will take a lot of painful work and sweat
Ere we will reap the crops that are as yet unsown,
And a good stretch of time till we will cook new hash!
So meanwhile, while we gaze at God's benignant hand,
Let's move on and prepare ourselves for heavy work,
And let's not be alarmed on hearing lashing rains,
Or when the gales and storms will try to harry us.
Let's hurry, let's move on, and master ev'ry task!
Good agriculture calls for strong and sturdy plows,
For harrows sharp and tight and horses brisk and fast.
For where an ox plows up the soil in heavy lumps,
A horse must harrow down and smooth the rugged ground."
"Indeed," sly Slunkius spake, "by God's eternal will,
I have gained on sweet sleep and rested my old bones.
So many times without a word about my woes
Stretched out and covered up I snored by a warm stove.
I wish the winter had remained a longer while,
Or that we were sent here just to eat, drink, and sleep!
But now, Lord pity us, the summer time draws near
And summons us take up unwelcome loads of toil.
Ah, wellaway! Sad tears befill my weary eyes;
And that old wife of mine — you well know woman's ways —
Wears anger on her face and often sighs and cries.
So I, lamenting and forseeing joyless days,
I say to her, 'Dear Ma, for once try not to cry;
There is enough of time to do the work undone.
We know that an old wheel, which barely turns around,
Outlasts the new one, which keeps twirling round and round
And falls apart because of turning much too fast.
Even a stubborn horse, which hardly moves along,
Oft drags a heavy load to a more distant point
Than the brisk steed, which struts and jumps himself all out,
And oftentimes incurs a mishap needlessly.
And take the vender of the homemade axel grease;
He, on a squeaky wheel, just drags from town to thorp,
And yet he manages to earn a goodly coin.
So what of it, if some darn fool works on the run
And twists his aching brain, until his heart burns out!'
"My father, Kubas, all his life would never rush,
And e'en his father, Stepas, never favored haste.
My father many times, while lying drunk in bed
Wrapped up in an old coat, would curse and shout at us:
'You children must beware of modern ways and styles!
Keep living on the way your parents used to live.
Be wise; conserve your strength and never rush at work.
Be thrifty; learn to save while you are young and strong,
Then in your hoary age you will have good reserves.'
And so I took the wise advice of my old man,
And will repeat his words as long as I shall live."
The boors who heard such loose and irrational talk
Were much ashamed of him, yet Pričkus bravely spoke:
"Go on you tumblebug, where tumblebugs prevail!
While messing in refuse, you have messed up your home,
And caused yourself and all Lithuanians stinging shame.
I, when the squire sent me with writ to seize your goods,
Myself, you know, have lashed your lazy back so much
That your old garments fell to ribbons on your loins.
Then too, the watchman almost skinned your hardened hide,
And you alimping crept to do the feudal tasks.
With drinking revelry, you good-for-nothing wretch,
You have devoured your land, your home, your fence and gate!
Are you not now ashamed to ruin your children's lives?
"But you, good neighbors, men of home and family —
You, stalwart breadwinners with sweet and gentle wives —
We need not be ashamed of irksome farming work:
The pitching of manure, the digging in the soil.
The First Folk, too, when they lost their solemnity,
Only through drudgery could seethe their dinner pot.
The Lord did not intend that the remiss should eat;
The loafers and truants are never welcome here.
Before a hungry mouth may taste a tempting meal,
The body must work hard to earn the privilege.
"And therefore, each of us, let's take our lazy ox
And teach him to be fast and willing to obey.
Frühlingsfreuden
Schon stieg die Sonne wieder zur Höhe und weckte die Welt auf,
Lachend, da sie vom Winter mühsam Geschaffnes vernichtet.
Denn es begann, was der Frost sich ersann, samt dem Eis, zu zerrinnen,
Brüchig geworden, verwandelt der Schnee überall sich in Nichts jetzt.
Linde Winde strichen erfrischend über die Fluren,
Riefen erweckend allerlei Kräuter jetzt auf von den Toten.
Sträucher wie Heiden erwachten, um sich vom Schlaf zu erheben,
Höhen und Senken der Ackerflur warfen nun rasch ihren Pelz ab.
Alles, was da in garstigen Herbsttagen weinend erstorben,
Alles, was friedlich den Winter über im Teiche sich aufhielt
Oder unter den Stubben den Winter hatte verschlafen,
Alles das kroch rasch in Scharen heraus, die Sonne zu grüßen.
- - - - - - - - - - - - - - - - -
Sieh, schau nur auf, wie die Sonne, die rasch jetzt emporsteigt,
Felder schon trocknet, wie sie das Gras mahnt, sich zu erheben!
Ja, nicht mehr lang währt's, bis wir an Blumen, zu Sträußen gebunden,
Wieder riechen und fröhlich den Frühling preisen, den bunten.
Aber ihr Arbeiten auch werdet wieder mit Mühen uns quälen,
Wenn wir nun, uns zu plagen gezwungen, ziehn in das Scharwerk.
Ach, wieviel Müh wird's noch kosten, bis in die Scheuer gebracht ist,
Was auf dem Boden oder im Speicher keimlos noch daliegt,
Und noch lang gilt's zu warten, bis Erbsengemengsel wir kochen.
Nun also, da wir die göttliche Hand schon hilfreich gewahren,
Rühren wir uns allgemach, unsre Arbeiten rasch anzupacken,
Sein wir nicht bang, wenn wir mal das Rauschen des Regens vernehmen
Oder wenn allerlei Unwetterstürme oftmals uns ängsten!
Sputen wir uns, gehn wir dran, für alles, was nötig, zu sorgen!
Pflüge zum Ackern tun not, Streichbretter, Pflugscharen auch noch,
Zinken brauchen die Eggen und tüchtig gefütterte Gäule.
Wissen wir doch, was die Ochsen gemächlich umbrechen vom Erdreich,
Müssen die Pferde umherlaufend, wie wir's befehlen, zerbröckeln.«
»Freilich«, sprach Slunkius drauf, »wir haben mit göttlicher Hilfe
Manchmal uns ausschlafen, Glieder uns frisch machen können.
Ach, wie oft hab ich doch, die drückenden Sorgen nicht achtend,
Langhingestreckt, wohlbedeckt, geschnarcht am wärmenden Ofen.
Ach, wenn der Winter bei uns doch noch viel länger geweilt hätt!
War es doch hier uns vergönnt, immerfort zu schlafen, zu schlafen!
Nunmehr, daß Gott sich erbarm! da kommt schon wieder der Sommer
Und ermahnt uns, die Lasten der Arbeit jetzt willig zu packen.
Ach, schon beginnen die Tränen sich mir in die Augen zu ziehen.
Aber mein Weib, meine Ehfrau - ihr kennt die Gewohnheit der Weiber -
Heult immerfort, ringt die Hände, hockt ganz zusammengekauert.
Ich, immer seufzend und solches erbärmliche Elend stets sehend,
Sage: >Ach Mütterchen, hör doch jetzt endlich mal auf mit dem Heulen,
Zeit ist's doch noch, und wir werden schon unsere Arbeiten schaffen,
Wissen wir doch, daß ein altes Rad, das nur langsam sich umdreht,
Jenes gar oft überholt, das wie im Tanz stets dahinrollt.
Aber wie oft springt's entzwei vom übermäßigen Schwingen.
Auch der recht schwerfällge Klepper, der immer im Schritt nur dahintrollt,
Trägt manchmal weiter die Last, die man ihm auf den Rücken gelegt hat,
Als manches Roß, das tollt, auf die Hinterbeine sich aufbäumt,
Aber wie oftmals kommt's auch durch seine Tollheit zu Schaden!
Sieh nur, der Teermann, um seinen Teer nach Maß zu verkaufen,
Langsam fahrend von Dorf zu Dorf, läßt die Räder laut knarren,
Und er verdient sich trotzdem auch damit ein ansehnlich Sümmchen.
Was kommt dabei denn heraus, wenn ein Bauer, durch ruhloses Rennen,
Durch ein Unmaß von Sorgen sich das Herz doch nur schwer macht?<
Nicht so töricht verfuhr da Kubas, mein Vater, sein Lebtag,
Und auch sein Vater, der Stepas, hat nie uns gelehrt, so zu leben.
>Kinder<, riet er uns stets, als er trunken sich streckt' auf die Matte
Und mit 'nem einfachen Sack wie ein einfacher Bauer sich deckte,
>Kinder, hütet euch, nichtiges Neues für euch zu entdecken,
Ruhig lebt so, wie wir, eure Väter, einstens auch lebten,
Geht nur stets mit Verstand, schön gemächlich an euere Arbeit,
Schont euch nur klug, solange ihr jung seid, noch rüstige Burschen,
Daß das Alter dann auch noch was findet, wenn es herantanzt.<
Diese Worte des Vaters hab ich gehörig beherzigt,
Und ich erinnre tagtäglich mich dran, solange ich lebe.«
Alle Bauern, nachdem sie die albernen Reden vernommen,
Schämten sich, aber der Pričkus widersprach ihm verwegen:
»Geh nur, du Mistkäfer, hin, wo sich Mistkäfer gerne vergnügen!
Jedes Jahr hast du schon, mit den Deinen im Mist herumwühlend,
Dir und uns Litauern allen scheußliche Schande bereitet.
Ich, wenn Herr Amtsrat mich mit dem Befehl der Vollstreckung geschickt hat,
Habe dir oftmals, das weißt du, kräftig den Rücken gehobelt,
Daß die Fetzen aus deinem schäbigen Pelz nur so flogen.
Ach, wie oft hat der Wachtmeister beinah dich völlig gehäutet,
Daß du hinkend sodann mit Ach und Krach zogst zum Scharwerk?
Nichtsnutz, der du stets schwelgst und deinen Rachen nie vollkriegst,
Hast doch den Acker samt Zaun, das ganze Haus schon verfressen,
Und da schämst du dich nicht, deine Kinder nun auch zu verderben?
Aber ihr ehrwürdgen Nachbarn, ihr ehrsam fleißigen Wirte
Samt euren wackeren Frauen, wir brauchen uns gar nicht zu schämen,
Wenn wir die Arbeit der Bauern jetzo wieder verrichten,
Dünger aufwühlen und streun, beim Bestellen der Felder uns mühen.
Hat doch der erste Mensch, nachdem er die Unschuld verloren,
Nur nach Arbeit und Sorgen seinen Topf brodeln sehen.
Gott hat's nun mal nicht versprochen, uns ohne Mühe zu nähren,
Denn immer faulenzend, schlafend sind für die Welt wir untauglich.
Will unser hungriger Magen sich recht am Wohlschmack erlaben,
Muß unser ganzer Leib zuerst einmal tüchtig sich rühren.
Greife denn jeder von uns nur wieder getrost seinen Ochsen,
Wenn man gehörig ihn richtet, lehr man ihn gut zu gehorchen!
Gadalaiki
Translated by P. Kalva
Saule jau atkal kāpj augstāk un mudina pasauli mosties,
Visu, ko uzcēla ziema ar salu, tā smiedamās sagrauj.
Aukstuma cietokšņi stiprie un ledus it nemanot pazūd,
Putās pārvēršas sniegs un pēc brīža nekur vairs nav redzams.
Tūdaļ siltāki vēji sāk tīrumus spirdzīgi glāstīt,
Saucot no miroņiem augšā visvisādas zāles un puķes.
Pamostas reizē ar tām arī silavas, birzis un skupsnas,
Klajumos kalni un lāmas met siltos kažokus projām.
Visi, kas rudens dubļos ar asarām aizgāja bojā,
Visi, kas ezera dzelmē sev atrada mitekli ziemai
Vai kas pārlaida to zem celma vai sakārņa miegā,
Lasās priecīgā pulkā un sveicina atmodas stundu.
...
coming soon!
RADOŚĆ WIOSNY
Translated by K. Pietkiewicz
coming soon!
Времена года
Translated by D. Brodsky
На небо солнце все выше взбираясь, мир пробуждает
И, сокрушая зимы ледяные творенья, смеется, —
Стали морозов искусных труды пропадать понемногу.
Пеной играя, снега исчезают, в ничто превращаясь.
Мягкие ветры подули, лаская продрогшую землю,
Каждую травку они призывают воскреснуть из мертвых.
Роща и лес расправляют замлевшие за зиму сучья,
Скинули снежный кожух полевые холмы и долины.
Все, что короткий свой век скончало в грязище осенней,
Все, что в прудах и озерах на теплом дне зимовало
Иль под корнями дерев коротало суровую пору, —
Ныне полками, глядишь, потянулось приветствовать солнце.
- - - - - - - - - -
Vårens fröjder
Nu har solen gått upp igen och väckt hela världen.
Leende slår den i spillror vad vinterkylan har skapat;
allt vad frosten byggt upp har snart försvunnit med isen,
och den våta, smältande snön försvinner i intet.
Ljumma vindar stryker förfriskande fram över fälten,
väcker örter av olika slag till liv från de döda.
Buskar och träd vaknar upp och sträcker på sig i solen;
kullar och svackor på åkrarna raskt kastar pälsarna av sig.
Allt vad som gråtande dog en gång i den otäcka hösten,
allt vad som övervintrat djupt i dammar och sjöar
eller sovit djupt under stubbar vintern igenom,
allt kröp i skaror fram för att hälsa våren välkommen.
- - - - - - - - - - - - - - - - - - - - - - - - - -
Titta bara, hur solen, som snabbt stiger upp från sitt läger,
torkar de våta fälten och manar grödan att växa!
Nu kan det inte dröja, förrän vi får binda buketter,
glädjas åt deras doft och prisa den färgrika våren.
Men nu kommer vi åter att plågas av arbeten också,
när vi igen skall träla med dagsverken ute på åkern.
Ack vilken möda det krävs, innan vi har samlat i lador
allt vad som ligger otröskat än därute på marken.
Än får vi ge oss till tåls, förrän vi får koka vår ärtgröt.
Nu, när vi vet att allt står i Herrens hand här i världen,
låt oss då sätta i gång med att uträtta allt som skall göras!
Låt oss varken bli rädda för det brusande regnet
eller för stormar av skilda slag, som rasar förfärligt!
Låt oss nu skynda på med att skaffa allt som behöves!
Billar och vändskivor krävs det, när vi skall ut för att plöja;
pinnar till harven behövs det och väl utfodrade hästar.
Ja, vi vet ju så väl, att där oxar har lunkat för plogen,
måste vi sen låta hästar gå för att luckra upp jorden."
"Ja", sade Slunkius, "än en gång har vi, Gud vare lovad,
fått sova ut ordentligt och fått liva upp våra lemmar.
Ack, hur mången gång har jag inte glömt mina sorger,
när jag låg där i värmen och snarkade utsträckt på ugnen.
Ack, om vintern hade dröjt kvar hos oss ännu längre
och vi fick lov här i världen att bara ligga och sova!
Men nu, Gud sig förbarme!, har våren kommit tillbaka,
och den tvingar oss nu ta itu med allt den för med sig.
Tårarna börjar redan att stiga i ögonen på mig,
och min hustru - ni vet ju hur kvinnor brukar bete sig -
kurar ihop sig och gråter och vrider händerna sina.
Jag bara suckar tungt, när jag ser ett sådant elände,
och jag säger: 'Ack, kära mor, hör upp med att gråta!
Än har vi tid; nog hinner vi med allt det som skall göras,
för du vet ju: ett gammalt hjul, som vrider sig långsamt,
mången gång hinner upp ett hjul som hoppar och dansar.
Mången gång går det sönder, för att det rullar för mycket.
Och på samma sätt är det nog med en gammal och trög märr:
ofta kommer hon längre med bördan vi lastat på henne
än mången ädel hingst, som rasar och stegrar sig ständigt.
Men hur ofta skadar han inte sig själv i sin yra!
Se på mannen som far och säljer tjära i trakten!
Långsamt far han från by till by med sin knarrande kärra,
men han tjänar ändå en vacker slant på sin tjära.
Vad får en bonde ut av att rastlöst flänga omkring och
genom att oroa sig i onödan skaffa sig hjärtfel?'
Kubas, min far, betedde sig ej så dumt mens han levde;
Stepas, hans far, hade inte lärt honom leva på så vis.
'Barn', sa han, när han var full och låg och drog sig på ugnen,
täckt med en enkel säck, som de enkla bönderna brukar,
'barn', sa han, 'akta er noga för alla slags nymodigheter!
Fortsätt att leva som era fäder hittills har levat!
Ni skall ta det förståndigt och lugnt med arbetet alltid.
Skona er, medan ni ännu är unga och friska till kroppen,
så att det finns något kvar, när ålderdomen tar fått er.'
Dessa min faders ord har jag fast inpräglat i minnet,
och jag skall tänka på dem var dag jag lever och rör mig."
Alla bönderna skämdes djupt, då de hörde så dumt prat,
men då tog Pričkus till orda och svarade honom på skarpen:
"Dyngbagge!" sa han, "dra du dit där dyngbaggar trives!
Året igenom vältrar du dig med de dina i dyngan,
så att du skämmer ut dig själv och andra litauer.
När herr amtsrådet4 sände mig order om utmätning hos dig,
gav jag dig mången gång, det vet du, en omgång med käppen,
så att din gamla nötta päls föll sönder i trasor.
Hur många gånger, säg!, har landsfiskaln5 nästan flått dig,
så att du knappt kunde släpa dig ut på dagsverksarbetet?
Du, din odåga där, som bara kalasar och super,
snart har du väl festat upp både hus och åker och gärdsgård,
och du skäms inte ens att fördärva barnena också!
Men ni ärbara grannar, ni alla präktiga bönder
med era duktiga hustrur behöver inte bli skamsna,
när ni skall gripa er an igen med lantbruksarbetet,
när ni skall köra ut gödseln och sprida den ut över åkern.
Redan Adam och Eva, sen de hade mistat sin oskuld,
kunde bara med möda och flit få något i grytan.
Gud har ju inte lovat att föda oss helt utan möda;
sömnig och lat är man obrukbar till det mesta i världen.
Vill den hungriga magen kalasa på kräsliga rätter,
då måste hela kroppen först vara duktigt i farten.
Nu skall var och en av oss ta fatt på sin oxe,
styra ut den fint6 och lära den lyda ordentligt.
4)"Amtsråd" (ty. Amtsrat) var i Ostpreussen titel för förvaltare av kungliga egendomar
(till skillnad för sådana som tillhörde privata godsägare).
5) Med "landsfiskal" har återgivits vakmistras (ty. Wachtmeister), en polistjänstemän
på landet.
6) När plogtjuren först fördes ut på åkern, brukade den vara smyckad med blomsterkransar och band.
Country in which the text is set

Prussia (East Prussia)

Impact

Kristijonas Donelaitis wrote the poem "The Seasons" while living in Tollmingkehmen, around 1765–1775. It is the first poem ever to be written in Lithuanian language and marks the beginning of professional Lithuanian literature. The poem is shaped in hexameter. "The Seasons" is composed of four parts: "Spring Joys", "Summer Toils", "Autumn Boons" and "Winter Cares". It is a realistic 18th century East Prussian Lietuvninks peasantry life image, representing the that time's daily routines, occupations, customs and ethnical characteristics (as it becomes obvious, for educational purposes). Complicated social relations and the national state of an enslaved country grow clear. Pantheistic point of view is well marked, the Sun is always in the spotlight as the main object. "The Seasons" represents the solar year. The poem involves a lot of moral didactics. The stylistic stucture emphasizes the theme as in 18th century baroque religious literature (ex. hyperbole and naturalistic vocabulary). The poem is loaded with lyrics, metaphors, personifications, analogies and hyperbole. Donelaitis was the first European writer of the age to use classical hexameter and in the poem he aligned it with tonic and metrical features of Lithuanian language. It was a unique and outstanding work compared to other literature works at that date.

"The Seasons" by Kristijonas Donelaitis is the first professional work of Lithuanian literature and has greatly influenced any further development of Lithuanian literature. The poem's plot, structure, word-painting and language inspired many writers. The poem became a widely discussed object, arousing the interest of specialists in literature, culturology, mythology, sociology, filosophy and many other subjects. In 1977, the UNESCO included the poem "METAI" ("The Seasons") in the Library of European Literature Masterpieces.

Balticness

Kristijonas Donelaitis is an exceptional artist and talented writer who lived in Prussia, wrote in Lithuanian and incited the community of Lietuvninks (Prussian Lithuanians) to stick to their native language, culture and customs.

"The Seasons" is a unique piece covering 18th century peasantry life of East Prussia and a great example of that time's Lithuanian language.

Erika Drungyte

Bibliographic information

Pavasario linksmybės. - Tilsit, 1891.

Rasztai. "Garso Amerikos lietuvių" spaustuvė, 1897.

Raštai. – Vilnius, M. Kuktos spaustuvė, 1909.

Metai. - Kaunas, LTSR Švietimo ministerijos knygų leidykla, 1940.

Metai. - Kaunas, Valstybinė leidykla, 1941.

Metai ir pasakėčios. - Kaunas, Valstybinė grožinės literatūros leidykla, 1945.

Lakštingala. Iš "Pavasario linksmybių". - Vilnius, Valstybinė grožinės literatūros leidykla. 1949.

Raštai. – Kaunas, Valstybinė grožinės literatūros leidykla 1950.

Metai. - Pasakėčios. - Kaunas, Valstybinė grožinės literatūros leidykla, 1956.

Metai. - Vilnius, "Vaga", 1966.

Translations

| | | |
| --- | --- | --- |
| Language | Year | Translator |
| English | 1967 | N. Rastenis |
| English | 1985 | P. Tampest |
| German | 1818 | Ludwig Rhesa (Rėza) |
| German | 1869 | G. H. F. Nesselmann |
| German | 1894 | Ludwig Passarge |
| German | 1966 | Hermann Buddensieg |
| German | 2017 | Gottfried Schneider |
| Latvian | 1963 | P. Kalva |
| Polish | 1933 | K. Pietkiewicz |
| Polish | 1982 | Z. Lawrynowicz |
| Russian | 1946 | D. Brodsky |
| Swedish | 1991 | Lennart Kjellberg |

Year of first publication

1818

Place of first publication

Königsberg